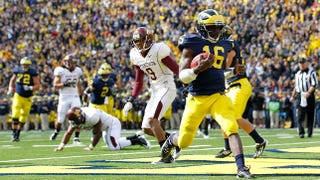 It's time for a new installment of Deadspin's college football rankings. As always, the teams are ranked according to the logic and values of college football, no matter how bizarre or contradictory they may be.
1. Clemson (5-0) Last week: 1.
The Tigers are still the only team to have beaten the reigning national champion, Auburn, in forever. But isn't it possible that, aside from that one heavyweight knockout, Clemson is nothing but a decent junior middleweight, designed to beat—and satisfied with beating—mundane ACC competition?
Nope. That would be formerly undefeated Virginia Tech, which hosted Clemson and got clobbered, 23-3.
2. LSU (5-0) Last week: 2
Un-suspended quarterback Jordan Jefferson scored the Tigers' first touchdown of the game on a one-yard run, while never-suspended quarterback Jarrett Lee kept sole custody of the passing game—going 8-for-21 for 169 yards—as LSU beat Kentucky, 35-7
3. Oklahoma (4-0) Last week: 3
In the Associated Press poll, the Sooners slipped from second to third this week, and their tally of first-place votes dropped from 12 to 7. On the football field, Oklahoma beat Ball State, 62-6. Fine, it's Ball State. But Ball State was on the schedule all along. How many points did those five voters who changed their minds want Oklahoma to win by?
4. Wisconsin (5-0) Last week: 8
The Badgers beat Nebraska, 48-17, in the Cornhuskers' Big Ten debut. Congratulations, Nebraska! That was the most points Wisconsin had allowed all year. On the other hand, it was fewer points than Wisconsin scored in the final 10 minutes of the second quarter alone, as they blew the game open.
5. Stanford (4-0) Last week: 5
Andrew Luck threw three touchdown passes against UCLA. Andrew Luck caught an option pass off a reverse. Andrew Luck carried the ball three times for 11 yards. Andrew Luck was "even allowed...to go up to the line of scrimmage in a hurry-up offense at one point and call his own plays." (Sigh. Football.) The only thing Andrew Luck didn't do to reinforce the story of Andrew Luck as one-man army: He didn't carry the ball the other 37 times for Stanford against the Bruins, as the actually impressively balanced Cardinal offense put up 202 rushing yards, routing UCLA, 45-19
6. (tie) Oklahoma State (4-0) Last week: 6
6. (tie) Texas (4-0) Last week: 6
Oklahoma State was idle. Texas beat Iowa State, 37-14, which was basically like being idle.
The reigning national champions beat South Carolina, in Columbia, 16-13. The AP described the Tigers as having a "maligned defense" and a "spotty offense," in a "season teetering on the edge." In its last 20 games, dating back to 2009, Auburn is 19-1.
9. Georgia Tech (5-0) Last week: 9
The Yellow Jackets put up "a season-low 413 total yards" as they beat North Carolina State, 45-35. Is that supposed to be unimpressive? Note: 296 of those yards came on the ground, via 10 different players. No individual Georgia Tech player carried for more than 74 yards.
10. Michigan (5-0) Last week: 15
The Wolverines gained 580 yards as they beat Minnesota, 58-0. Minnesota had more penalty yards than rushing yards. The Gophers were 0-for-11 on third down and had 363 punting yards.
11. [Vacant] Last week: 10
OK, Michigan is clearly better than nobody. Our vacant spot drops back out of the top 10.
12. Alabama (5-0) Last week: 14
Beat Florida, which is not Auburn, 38-10. The Gators were held to 15 yards rushing.
13. Boise State (45-0) Last week: 13
The Broncos beat Nevada, 30-10, avenging last year's defeat. Someone else will have to crush the Broncos' BCS title plans this year. Oh, right: The BCS will.
Then in this week's Friday game, the Broncos beat Fresno State, 57-7. That'll show someone something.
14. South Carolina (4-1) Last week: 11
In defeat against Auburn, defensive end Melvin Ingram had 3 1/2 sacks and an interception. Our Heisman favorite was not the reason the Gamecocks lost to the Tigers. (The reason the Gamecocks lost was that the Tigers are a better football team.)
15. Arkansas (4-1) Last week: 20
Last week, Texas A&M demonstrated its eagerness to flee the Big 12 by choking away a huge lead to Oklahoma State. The Aggies then hosted Arkansas, representing the conference that Texas A&M wants to join, and rolled out to a comfortable first-half lead in Cowboys Stadium. Here's life in the big-time SEC, Aggies: The Razorbacks outscored A&M 25-3 in the second half for a come-from-behind 42-38 victory.
16. Kansas State (4-0) Last week: unranked.
The undefeated Wildcats followed up a 28-24 win over Miami with a 36-35 win over Baylor. A solidly semi-impressive start to the season.
17. South Florida (4-1) Last week: 17
Last week's Thursday-night loss to Pitt already counted in the previous rankings.
18. West Virginia (4-1) Last week: 21
The Mountaineers bounced back from losing to LSU by beating Bowling Green, 55-10. Got it: They're worse than LSU, but better than Bowling Green. After rushing for 306 total yards in their first four games, the Mountaineers got 281 yards from Dustin Garrison. But he was playing against Bowling Green.
19. Virginia Tech (4-1) Last week: 19
The Hokies confirmed that they're inferior to Clemson.
20. Baylor (3-1) Last week: 4
Quarterback Robert Griffin III had eight incompletions—including his first interception—against Kansas State. The problem with statistical stunts, like Griffin's bid to have more touchdowns than incomplete passes, is that they lead you to say things like "Griffin had only five touchdown passes." So Robert Griffin III suffered a grave setback in the touchdowns-versus-incompletions race. But in less clever statistics, he threw for 346 yards and 5 touchdowns, and his team lost by only one point.
21. USC (4-1) Last week: unranked
Among our wounded outlaw programs, Ohio State lost to a Michigan State team that still hasn't played any quality opponents, so the Buckeyes drop off the list—making room for the Trojans, on the strength of USC's 48-41 win over Arizona. Quarterback Matt Barkley had touchdown passes of 82, 38, 28, and 7 yards, and ran for another touchdown.
22. Navy (2-2) Last week: 16
The Midshipmen stay on the list despite losing to Air Force, 35-34, in overtime. (Air Force matters for the Commander-in-Chief's Trophy, but it's not Army.) Navy scored 18 unanswered fourth-quarter points to tie the game. Then, in the shootout, quarterback Kriss Proctor scored a touchdown to give the Mids the lead—and was penalized for an unsportsmanlike celebration, leading Navy to miss the extra point, which allowed Air Force to match the touchdown and win the game with its own PAT.
The unsportsmanlike conduct call after a touchdown is the most petty, mean-spirited penalty in sports. If you think Proctor should have showed gentlemanly modesty in the excitement of the moment—well, if our officers-to-be were true gentlemen, Air Force should have declined the penalty or deliberately missed its own kick, rather than allowing the refs to award them such a cheap win.
23. Illinois (5-0) Last week: unranked
Undefeated! The Illini have beaten (drumroll) Arkansas State, South Dakota State, Arizona Arizona State, Western Michigan, and now Northwestern, the last by a 38-35 score. Next they face Indiana, then the twitching remains of Ohio State, then Purdue. Illinois has a great chance to go to a bowl game, where it will meet an SEC team with a similar win-loss record, which will beat the Illini by 150 points.
120. Nebraska (4-1) Last week: unranked
OK, Cornhuskers—so you ran away from Oklahoma and your school's entire football history to join the Big Ten. Now you're in the Big Ten. Before this week, the average score of a Wisconsin football game was Badgers 48.5, Opponents 8.5. After a visit from Nebraska, the average score was Badgers 48.4, Opponents 10.2. Nebraska Football: Not Appreciably Better Than Northern Illinois Or South Dakota. Who are you going to run away from now?