It's time for a new installment of Deadspin's college football rankings. As always, the teams are ranked according to the logic and values of college football, no matter how bizarre or contradictory they may be. Starting this week, that includes actual game results.
Jokic? Embiid? The NBA MVP is obvious... right? | Keep it a Buck(et)
1. Auburn (1-0) Last week: 1
Pity the souls in the AP poll who knocked the reigning BCS title team out of the rankings entirely, just because the Tigers needed a last-minute scoring flurry to rally past Utah State at home. (Also: Remember this the next time someone complains about someone running up the score—the AP punished the undefeated defending national champions for not humiliating their foe.)
Where the AP drones blame Auburn for struggling to win a game that should have been easy, we praise Auburn for showing the heart of a champion—a champion that hasn't lost a game since November 2009. Till they do lose one, we're going to keep celebrating their grit and resilience.
2. Ohio State (1-0) Last week: 2
The Buckeyes crushed any hopes Akron had of challenging them for the title of Best Team in Ohio, 42-0.
G/O Media may get a commission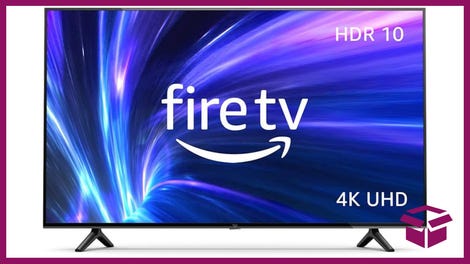 42% Off
Amazon Fire TV 50" 4K Smart TV
3. Oklahoma (1-0) Last week: 3
Unlike cowardly, fleeing Nebraska, which skulked out of the Big 12 on its own, the Sooners are scheming to bring a conference rival or three along if they decide to jump to a megaconference. That makes up for their sloppiness in allowing Tulsa to score two touchdowns in Oklahoma's 47-14 victory.
4. LSU (1-0) Last week: 4
Suspended quarterback Jordan Jefferson asked the authorities if he could have his four dozen shoes, seized in the investigation of the stomping charges against him, back. Non-suspended quarterback Jarrett Lee was adequate ("gutty" was his coach's way of putting it) against Oregon, as the Tigers coasted to a 40-27 victory.
5. Baylor (1-0) Last week: unranked
On the field, the Bears demolished Texas Christian's plans for another season of BCS martyrdom with a 50-48 victory. Now TCU has to slog through the rest of the season as another loser school nobody cares about. But Baylor's real winning play happened away from the gridiron, when it refused to waive its right to sue Texas A&M over the Aggies' attempt to jump to the S.E.C., thereby blocking the move:
A source close to Texas A&M characterized Baylor as "the ringleader" in the attempt to keep A&M in the Big 12, ESPN's Joe Schad reported.

"We are being held hostage right now," A&M president R. Bowen Loftin said of being forced to stay in the Big 12. "Essentially, we're being told that you must stay here against your will and we think that really flies in the face of what makes us Americans for example and makes us free people."
Yeah, honoring your contracts is basically serfdom, right? Quit sniveling on the flag, Aggies. Baylor has rights, and it's not afraid to exercise them.
6. Stanford (1-0) Last week: 6
Andrew Luck failed to be individually gaudy—171 yards passing, 2 touchdown throws, 1 touchdown run—in the Cardinal's 57-3 win over San Jose State. Time to celebrate his selflessness and leadership.
7. (tie) Oklahoma State (1-0) Last week: 7
7. (tie) Texas (1-0) Last week: 7
Texas scored 34 points and beat Rice by 25, 34-9. Oklahoma State gave up 34 points and beat Louisiana-Lafayette by 27, 61-34. Which quasi-blowout was more impressive? We're still not interested enough to find a difference between these teams.
9. Wisconsin (1-0) Last week: 10
Quarterback Russell Wilson had 317 of the Badgers' 499 yards—including a 46-yard TD run—in their 51-17 win over UNLV. Because it's the Midwest, we're going to credit that to the line.
10. Florida State (1-0) Last week: 12
At least one formerly washed-up Florida football superpower did a plausible impersonation of its old respectable self, dispatching Louisiana-Monroe 34-0. Actually, Bobby Bowden might have gacked that kind of game, in days of yore.
11. [Vacant] Last week: 11
Still waiting for someone to make a strong bid to be No. 11.
12. South Carolina (1-0) Last week: 13
A gritty comeback and a blowout: Steve Spurrier yanked his quarterback, trailing East Carolina 17-0, and starter-turned-backup Stephen Garcia led the Gamecocks to a 56-37 victory.
13. Navy (1-0) Last week: 14
A 40-7 win over Delaware moved the Mids one week closer to the Army-Navy game.
14. South Florida (1-0) Last week: unranked
The Bulls overcame long delays for lightning storms and secured a 23-20 victory on the road over some uninteresting and irrelevant team.
15. Michigan State (1-0) Last week: 15
Beating Youngstown State 28-6 is exactly the kind of thing the Spartans need to do to keep their grip on the No. 15 spot.
16. Boise State (1-0) Last week: 16
The Broncos went to the Georgia Dome and handled the University of Georgia with ease, 35-21. The BCS voters will keep that in mind at season's end, when they vote Boise State no higher than third place.
17. Michigan (1-0) Last week: unranked
Unlike another Midwestern team going nowhere, Western Michigan didn't think it was worth electrocution or boredom to play out all 60 minutes of a losing effort. So with Michigan leading 34-10 in the third quarter and lightning storms threatening, the Broncos agreed with the Wolverines that enough was enough, and allowed the game to end right there.
18. Arkansas (1-0) Last week: 18
A 51-7 win over Missouri State established that the Razorbacks are a lot better than Missouri State.
19. Virginia Tech (1-0) Last week: 19
A 66-13 win over Appalachian State established that the Hokies are a lot better than Appalachian State.
20. Texas A&M (1-0) Last week: 9
The Aggies were so busy getting punked by Baylor in their conference maneuvering, it was easy to forget they played a football game. It was 46-14 over SMU. Congratulations, guys.
21. Alabama (1-0) Last week: 20
Beat Kent State, which is not Auburn, 48-7. There's either one touchdown too few on the left side or one too many on the right side for that to be an impressive big-time blowout.
22. Penn State (1-0) Last week: 21
Beat Indiana State 41-7. Ho-hum.
23. West Virginia (1-0) Last week: unranked
Beat Marshall 34-13, in another lightning-shortened game, to claim the title of best football team in the state of West Virginia. So much for all those play-the-full-60-minutes speeches. Did you know that if you give someone the finger with your left hand but you keep the thumb extended, your hand forms a map of West Virginia? Harpers Ferry is at the tip of your thumb.
24. Maryland (1-0) Last week: 120
120. Oregon (0-1) Last week: 5
The Nike-Oregon partnership has two goals: play for the national championship, and, more importantly, use playing the national championship as a showcase for Nike's newest and ugliest high-concept uniforms. One week into the season, the project is a total failure. LSU whipped the Ducks on the field, and then Nike-Oregon got housed in the crazy-pajamas-controversy department by Under Armour and Maryland. Hurry up and buy another program, Phil Knight, because Oregon is worthless to you now.