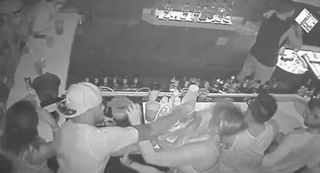 Florida State dismissed quarterback De'Andre Johnson yesterday after video from a Tallahassee bar showed why he was arrested in June for battery. Johnson's lawyer Jose Baez is now attempting to do damage control, calling the punch an "experience" and also claiming that the woman used a racial slur towards Johnson.
Baez told NBC News that the woman used "racial epithets" when Johnson bumped into her, and that the quarterback was trying to calm the situation. More lawyer talk follows:
"It wasn't until she struck him twice that he reacted," Baez said. "But he is very...He is very regretful that he didn't turn around and walk away immediately."

"He makes no excuses for what happened," he added.

Baez called Johnson's dismissal from the football team "unfortunate" and said his client is now volunteering at a shelter for battered women.

"All he wants to do is learn from this experience and move on and get an education," Baez said. "We certainly don't want him to pay for the rest of his life for an incident that occurred in a bar."
[NBC News]
---
Contact the author at samer@deadspin.com.