From Brooks comes this photo from last summer of Deion Sanders receiving $100 during a youth football game in Bedford, Texas. Sanders was there coaching his son's team, the awesomely-named 'Truth Prime'. So what was the money for?
Well, this is of course nothing more than wild speculation, but for the purposes of discussion let's just go ahead and assume Deion was betting on a football game he was coaching and which involved seven-and-eight-year-olds, one of whom was his son. I then ask you this - does that not make him just an awesome dad? I mean, nothing says, "I believe in you, son" more than a willingness to place cold hard cash down on whether you and your third-grade teammates can cover the spread.
This presupposes, of course, that Sanders would have bet on his team. Because if it was the other way around, that could be devastating for L'il Prime Time. I still wince at the memory of the time my dad took the over* on the number of times I'd wet myself during the elementary school public speaking contest. In fairness to him, he did use his winnings to take me for pizza.
Pics: Did Deion Put C-Note On Son's Youth Game? [SportsbyBrooks]
•••••
That's all for today, folks. Enjoy your Saturday night, wherever it may take you.
G/O Media may get a commission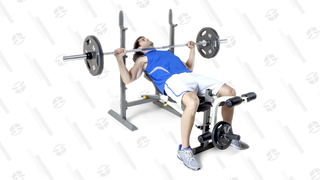 10% Off
Marcy Folding Weight Bench
*It was two.