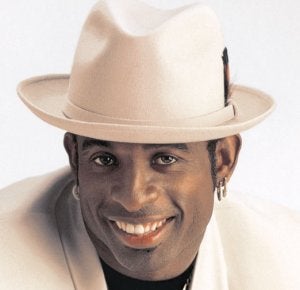 This news is a bit old, but you're probably still so doped up on tryptophan at the moment that you won't know the difference. Deion Sanders had some not-so-nice words for Eagles fans following Philly's big Thanksgiving Day rout of the Cardinals. During the NFL Network's postgame interview with Donovan McNabb, Prime Time took exception to what he deemd to be fairweather treatment of the QB by the Philadelphia faithful. Seems some fans stuck around for the interview to cheer their beleaguered star's four touchdown performance, but Sanders was having none of it:
"Can I tell them something for you?" he said [to McNabb]. "First of all, I would like to tell all these idiotic fans to shut up. Don't get on his bandwagon now. You're the same guys who booed him on his first incompletion."

Host Rich Eisen then asked Sanders what he thought of the Philadelphia fans.

"I can't stand them. I really can't," Sanders said. "It's not because I was a former Cowboy, because I didn't give a darn about any fans. They all hated me because I performed well.

"But the way they treated this man from day one, it's not justifiable. They will not treat any other quarterback in the NFL, like we said, Peyton Manning don't get treated like that. Tom Brady. And I know you [McNabb] can't say it . . ."
Unfortunately, Sanders was unable to finish the quote, due to the expertly thrown set of car keys that became lodged in his windpipe.
Deion Sanders rips Eagles fans [Philly.com]