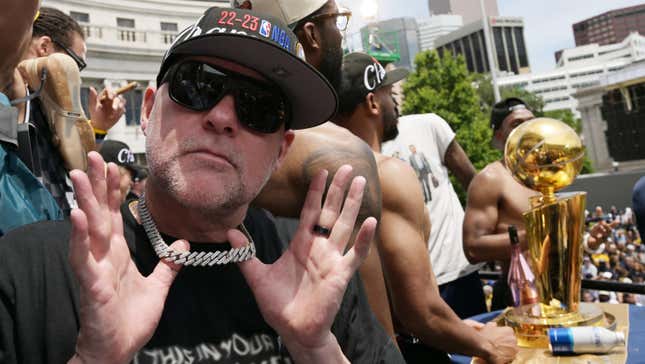 Denver Nuggets coach Michael Malone was obsessively on topic throughout the entire postseason. No win was too big, and none of their four losses set off panic meters. Even with a 3-1 lead in the Finals, the coach preached urgency and wanted his team to play like they were the ones facing elimination, despite no opponent pushing Nikola Jokić, Jamal Murray, and Co. to the brink.

Hey Shannon Sharpe, the Memphis Grizzlies are the NBA's Kings of the Ring
Well, now we know why Malone insisted upon getting a ring as quickly as possible: He couldn't wait to run his mouth. The Nuggets skipper is a walking soundbite, but was extremely careful about not giving any team, including his own, bulletin board material for the past two months.
However, as soon as that bubbly popped, so did the coach.
No one is safe from Malone's trolling
There was the time he trolled LeBron James with a fake retirement dig on the Pat McAfee Show.
"Speaking of the Lakers, I just want you guys to know, this is breaking news: I'm thinking about retiring," Malone said in jest.
(LeBron fired back, with one of the more egotistical posts in human history.)
Shit, Malone seemed determined to plant the Nuggets on the radar of the other 29 NBA franchises during the title parade.
"What a great day to celebrate a championship, but we're not done yet," Malone said, right before all sobriety left his body. "We some greedy bastards, baby. We're getting another one!"
Malone, who's so intent on being called Michael that he corrects reporters, even referred to himself as Mikey — which I'm absolutely co-opting at least for the rest of this article. The target of Mikey's next rant was the media, who voted Joel Embiid as the league MVP.
"You guys know (Jokić) stat pads, right?" Malone said at the parade podium. "You guys know he didn't win a third in a row MVP because the voters didn't want to vote for him. This guy right here, this guy right here is an amazing player. But I hope you all know him, Natalija, their daughter, their brothers, their family, they're a huge part of Denver."
Mikey's day at the parade rivaled Klay Thompson's performance a year ago at this time, and Malone is a legend for it. Normally, coaches hang out on the responsible bus like Andy Reid, but Malone was having none of it. He sprayed fans at the parade with champagne, and his flat-brim and sunglasses combo gave off the vibe of a fifth grader kid who knew he could chat shit because he's got a dozen high schoolers backing him up.
Mikey has been drunk dialing into interviews like a guy calling his exes the day he graduated from medical school, and I'm here for every morsel.
"Hey, Stacy… Stacy… Did you hear what your boy did? It's Mikey Malone, MD, now, baby!"
Post-title Malone is showing the world how Denver got its quiet confidence, as one can only imagine the kind of stuff he says behind closed doors. I hope Mikey's bravado carries over to next season, because I haven't heard this kind of honesty from an NBA coach since Phil Jackson was treating news conferences like reflection retreats.
That said, something tells me that once the meter is reset and the calendar starts anew, Mikey will go back to Michael and return to the all-business, super-focused coach that didn't want to relish a single milestone until the mountain was scaled. And to be fair, if I had worked tirelessly for eight years to achieve a goal — without allowing myself a second to enjoy it — I'd take a weeklong victory lap, booze in hand, grinning ear to ear, and talking my shit, too.
A word about the US Open that's not dunking on it because it's Father's Day
Not sure if my dad is reading this, but I know he'll be watching the final round of the US Open, so let me give a golf take that's not "flush this entire sport." I don't think I've pulled for a player to buck a stigma like Rickie Fowler. He's been giving us McBain quotes since Friday, but also shares the lead with Wyndham Clark heading into the final 18.
Fowler didn't jump to the LIV Tour even though he could have, yet wasn't sanctimonious about his decision, so I have no qualms with him. He's one of the few golfers that I actually don't denigrate for failing to come through in a major.
So, happy Father's Day, dad. There's a little golf talk for you.