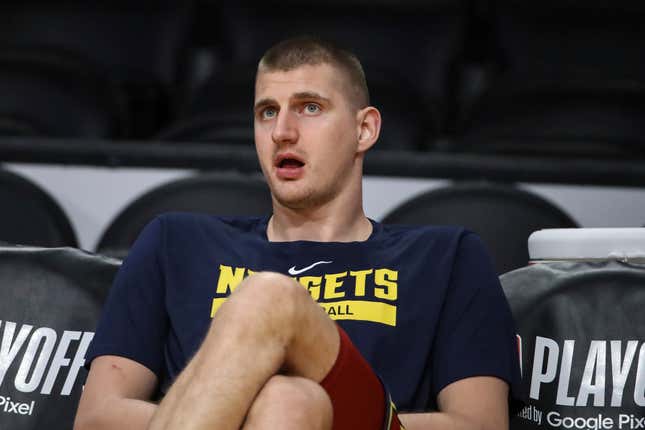 The Denver Nuggets are in the NBA Finals for the first time in franchise history, and I'm sincere when I say that's not a backhanded compliment. Yet it seems as if I'm one of only a few media members who actually wants to talk about the team that won the Western Conference Finals. The league and its cling-ons were hoping for a heaping helping of Los Angeles Lakers-Boston Celtics, and instead, they'll have to settle for Serbian food and Nickelback.
What's worse than Glen Kuiper using the N-word on air? | Worst of the Week
However, this is the job. Write about the squads still standing, and hand out flowers to the players who earned them. Nikola Jokić is playing like an old-school video game boss, made impossible to beat due to finite lives, not enough quarters, and an unstoppable array of unblockable attacks. We just spent the past month and a half drooling over L.A. coming back from a horrendous start, yet Jamal Murray returning from a torn ACL and shedding the Bubble Murray moniker isn't compelling because he's not in purple and gold?
It's easy to rattle off players and say, "They're not interesting." I could just as easily do it with media personalities who claim banality as an excuse for not wanting to talk about Denver. The Nuggets have a two-time MVP and a group of guys who've also persevered through injuries. In addition to Murray's road to recovery, Michael Porter Jr. only appeared in nine games last year, and has had to overcome back problems since the draft.
I understand that LeBron James and Anthony Davis do more traffic, and are easier to discuss because all we ever do is talk about L.A. They don't matter at the moment because they were summarily swept by a far superior team. We have all offseason to debate LeBron's future, so that can be shelved for now — and in general.
Blame ringzzz culture, sports media, social media, everyone
Chris Mannix isn't the only reporter who wants to clock in and go through the motions. If sports media painted houses, every home would be a hue of beige. It's the same storylines over and over again, and the only way to enter the conversation is to win a ring, or say some wild shit.
If a ring is the only currency that earns a player media attention, then why has Damian Lillard been in the news even though Portland was eliminated from playoff contention in March?
We literally just shouted about Jokić and the MVP race for months, but a lot of people were on the Joel Embiid bandwagon, so offering a mea culpa would be career suicide because it would compromise a take, your integrity? I'm still not sure. I caped for Embiid, and I couldn't have been more wrong.
Even after getting slandered for months because he was the white face of the MVP debate, Jokić derided those who've been "mean" to Embiid, and said the Cameroonian wasn't deserving of the award after the 76er's second-round exit. That's essentially the reception Jokić got after last postseason, and the media wonders why he has no interest in participating in their dog and pony show.
There are gobs of angles to cover with this Nuggets team, and I will not entertain excuses to talk about the fucking Lakers. All of the alleged reasons to ignore Denver have nothing to do with basketball, yet that's what we're supposed to be covering.
So kindly, do your job, and then go back to rehashing the same mundane, boring talking points on NBA Twitter.