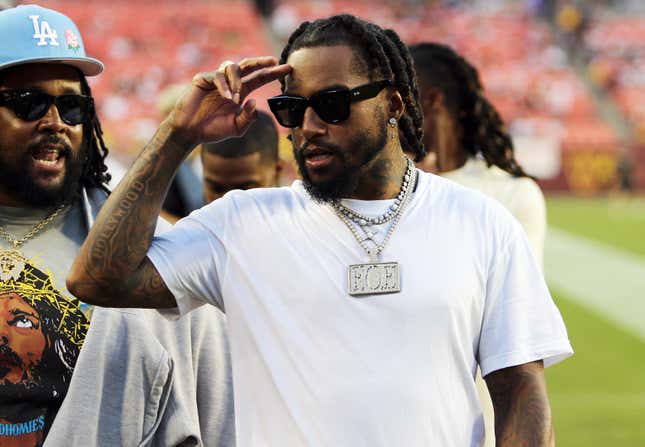 For every armchair quarterback out there who has fantasized about competing on the same field as their favorite NFL stars, now is your time — even if Kevin Hart's wheelchair is still warm.
Will Ezekiel Elliott or Dalvin Cook have a bigger impact? | Agree to Disagree
Former NFL wide receiver Desean Jackson has a new show that allows regular fans to live out this real-life fantasy football scenario. Jackson calls it "Pros vs. Bros" and will give fans the opportunity to face off against pro athletes for cash.
"Y'all wanted it, so i had to deliver! Officially starting my own series calls 'Pros vs Bros' where you can compete with me and other Pro athletes in drills for cash prizes!!" Jackson said on X (formerly Twitter). "First event will be in the L.A. area Sept 6, and signups are live now below!"
"Cant wait to humble y'all boys"
For all the washed-up, past-their-prime stars in their own minds, it's time to back up all that trash talk and get your arses on the field. No more excuses; go ahead and sign up to get embarrassed by retired professional athletes. That is unless a current NFL player pulls a Jaylen Brown and jumps ship. There's even a signup link included in Jackson's post, so you can't duck the smoke.
Trust and believe there will be plenty of jabronis filling out that sheet.
One who already did is Barstool Sports' Marty Mush, who claims he can "probably" beat Jackson in the 40-yard dash with his dazzling 4.6 speed. Replace that 4 with a 6, and now we're probably in the ballpark. In all seriousness, maybe Mush is fast; that's yet to be seen, but he's not beating Desean Jackson in a foot race. He might not even do it on a moped or scooter. Go back and watch Brian Scalabrine whoop up on those chumps on the basketball court. We just saw Hart admit the fault of his ways, assuming he could defeat a former pro athlete at something involving athleticism. The outcome here will likely be identical.
Overall, it sounds like a fun show that could produce a lot of aches and pains for a bunch of folks past their prime.