I used an electric nose hair trimmer for the first time the other day. It was oddly titillating. Now my nostrils are hollowed out like Nikki Tyler. It's almost too much oxygen for me to handle in one load.
Your letters:
Patrick:
So, with all the "information" that was found in the bin Laden mansion-hut, how much of it was porn? I cannot be the only person wondering this. With "five computers, 10 hard drives and more than 100 storage devices, such as DVDs and removable flash drives" found, there has to be at least a little gay porn in there.
Well, I assume bin Laden's masturbated to footage of American hostages having their heads cut off and what not. A bit of an extreme fetish if you ask me, but I try and keep an open mind about such things. I think there's probably shit on that hard drive that you can't even tell is porn or not. There's probably a closeup of something that looks like an otter having a tonsillectomy and to you it's some unidentifiable video but to bin Laden is was the hottest sex tape ever made. We might need our Gentle Path correspondent to analyze the files.
Then again, perhaps bin Laden was a real tightass and forbade masturbating in the compound for both himself and his underlings. After all, he had some wives in there and they found Viagra in his stash (this is true), so he could have just grabbed a wife when he needed satisfaction. And I have to think at least one of his henchmen would have really resented that kind of rule. Here you are, busting your ass and risking your life to hide your boss, and he's cockblocking you from your hand all the while. I'd leak my address in five seconds.
G/O Media may get a commission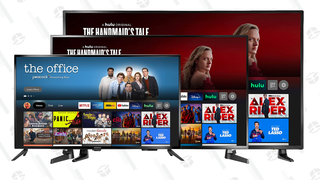 Up to 44% off
Prime Early Access - Insignia Fire TVs
Bin Laden stayed in his compound for five years, so I assume boredom took root in many forms. Did he have games on his hard drive? I think I'd feel some semblance of relief if he had games and shit on his hard drive. Maybe he and I both play Entanglement. I feel like that really could help us bridge the divide between our cultures.
Some more thoughts about that compound. First of all, is that not the shittiest million-dollar home you've ever seen? They showed footage of the interior and the guy didn't even have a proper bed. And nothing on the walls! He lives in that place for five years and he doesn't even throw a poster up on the wall? No wonder all he wanted to do was kill people. I've never seen such laziness. Even the most slovenly college student would have done more to jazz up the place than bin Laden did. Look at this photo of bin Laden in his TV room. He's got a shitty TV. He's got exposed wires all over the place. He's got shitty used furniture. He couldn't be bothered to stick the surge protector behind the desk. He didn't even unfurl the fucking rug. What kind of man are you if you can't even make your place somewhat pleasant to reside in? I've been in whorehouses with nicer décor. No lie. I've literally been in a whorehouse bedroom with nicer amenities. He better have been doing heroin all that time, because that's the only excuse for living like such a slob.
Also, is anyone else enraged that there was construda growing right outside the house? You have to go get your medicinal marijuana card or call a dealer if you want to light up. But over in Pakistan? It's just growing on the goddamn street, yours for the taking. That's bullshit. So, so angry.
Steve:
If I am at a restaurant with a table full of people, and we are served a loaf of French bread, I will fight to the death to secure at least one of the end pieces of the bread.
You're a heel man? See, I go right for the center of the bread, right for the widest pieces and therefore the largest volume share of the loaf possible. I think that's probably rude. I think you're supposed to tear off one end and progress from there. BUT I AIN'T PLAYIN' BY THE ROOLZ. I also take the middle pieces and tear off pieces for other people at the table, so that I monopolize my preferred pieces while supposedly being polite and offering others some. But I think everyone knows this ruse by now, and knows I'm just being a repulsive hog. And yet I still do it.
By the way, fuck you to any restaurant that sticks a knife in the breadbasket and expects me to slice that shit myself. What am I, your bitch? I paid to eat here just so I wouldn't have to do any prep work. I ain't slicing that shit and getting 5,000 crumbs all over the table.
Joe:
I just got back from a trip to the gas station for some snacks on my lunch break at work and when I got back to my desk, I found that my bag of Chewy Sprees had been tampered with. While the bag wasn't fully opened, it was opened enough that someone could have messed with the candy. I dumped the contents onto my desk and after close inspection satisfied my curiosity, my fat-ass ate the whole bag. To what extent would a food bag, wrapper, container have to be tampered with to prevent you from eating the contents?
Last week I was walking to the gym from the parking lot when I found, sitting there on the pavement, an unopened Reese's miniature. It was still wrapped, though not quite all the way. There were some gaps in the coverage, which happens sometimes with Reese's cups. Anyway, I put the cup in my pocket and spent my entire time at the gym deliberating as to whether or not to eat this thing.
I happened to live in Chicago right during the 1982 Tylenol murders, when some merry prankster killed seven people by tampering with Tylenol packages. HILARIOUS! This was also during that phase in the 80's when everyone started freaking out about tampered Halloween candy, with the razor blades in apples and all that shit. It was the Golden Age of Tampered Products, I tell you. That's why, any time you open up a new food product, you always see that warning label that says DO NOT CONSUME IF SEAL HAS BEEN TAMPERED WITH, OR DEMONS WILL COME OUT OF THE CAN AND EAT YOUR ASSHOLE OUT. I'm not sure I've ever bought something and discovered the seal has been fucked with. I keep expecting it to happen. I keep expecting to buy a box of Cheerios one day and open it up and discover the plastic bag inside has been opened and someone stuck a dead fetus inside, just to be a dick. But alas, that has yet to occur.
Your odds of actually being poisoned by a faulty seal are fairly minimal, of course. And if an evil genius were going to tamper with something to kill large swaths of the population, he'd probably choose a product other than Chewy Sprees. Though perhaps that was part of his nefarious plan all along. Only the most random products! The Chewy Sprees and the Basic 4! I would probably have tossed the bag out (I never did eat the Reese's cup), but that's only because I grew up during The Hysteria.
Side note: Whenever I open a vacuum packed jar of something, I will push the little button on the lid 900 times. Just for fun. I have very little to do.
Kevin:
Someone puts a gun to your head and makes you choose between spending the day with Colin Cowherd or Mike Greenberg, who would you choose? I think I'd choose the gunshot.
Are you kidding? It's Greenberg, easily. Greenberg may be a bland corporate shill, but he's probably a perfectly inoffensive person to go and get drunk with or whatever. Shit, I'd get drunk Greenberg TONIGHT if he offered to buy. Cowherd, on the other hand, is a legitimate piece of shit. Like, a genuinely unpleasant human being who would probably make you uncomfortable if you had to sit with him for more than three minutes. Like, you'd order a drink and he'd start in with, "Kevin, let me tell you what it takes to have a long, healthy career in this business…" And then you'd turn around and stab the cunt with a steak knife and everyone would clap but you'd still go to jail because stabbing people is illegal even if it's someone everyone would like to see stabbed. So yeah, Greenie. It's my Coors Light Stone Cold Penis Lock or whatever the fuck he calls it.
Adam:
Look at this shit. Here's why your mom told you "picking at it will only make it worse." This is an ingrown hair or zit that went horribly awry.
GAHHHHHHH!!!
Justin:
Let's say you've been involved in a terrible wood chipper accident, and have lost one of your hands. You're able to get a full prosthetic hand to replace it, but now you must choose: Do you go for something that looks relatively close to an actual human hand, or do you leave the fake skin off and just go for a full-on Terminator style robot hand? For the sake of the question, lets assume you must stick with what you choose forever, no switching from robo-hand to human lookalike-hand when date night comes around.
You want the human hand, because no woman in their right mind is gonna let you fingerblast them if they know the ice-cold hand of Darth Vader is about to invade their nether regions. Also, you never know if having a robot exoskeleton hand would play tricks with your mind, and turn you into a colder, more robotic person. Aw, you were hoping to spend some quality time together, Wifey? I AM AFRAID THAT IS NOW OUT OF THE QUESTION, FOR I DO NOT WASTE MY TIME ON THE WEAK.
It's shame, because I think all of us dream of having robot hands that are super strong and make awesome robot sounds whenever you curl the fingers. And putting a black glove on the robot hand would make it even cooler. When I was in eighth grade, I wrote a horrible screenplay called THE NEW WORLD (NOTE: Was not later optioned and adapted by Terence Malick), which was basically a Lethal Weapon ripoff, only the crazy Mel Gibson partner had a full robot arm, and the arm could transform into a rifle and a buzzsaw and shit whenever he wanted it to. I thought it was the most badass movie ever, mostly because the main character's name was Drew and he got laid A LOT.
HALFTIME!
Chris:
I've got this irrational fear of my work e-mail. If I'm at work, and my outlook has a pop up for a new e-mail, I have a moment of panic. The fear is that one of my bosses is e-mailing me directly to do something for them. Now here's the thing: I'm not lazy, nor am I bad at my job. But it's just one of those things that you just know is just going to be a pain in the ass, because it's a "special project" or something like that. And so when the little pop-up in the bottom right corner flashes, I always pray in my head it's a firm-wide e-mail or something that doesn't pertain specifically to me. I can't be alone in this, can I? Isn't work e-mail at least slightly terrifying?
No, no. Your fears are justified. Nothing ruins your day like an email flying in with real work for you to do. They always pop up in your inbox at 4:30PM, too. You've had nothing to do all day, now the fucking boss actually expects something? FUCK THAT GUY. Send your bullshit tasks earlier in the day, bosses of America. Otherwise, your death will be meticulously plotted.
Even worse is the email from your boss that doesn't outline the work, but rather invites you to his office so he can over the entirety of the project with you, which means it's a whole monster FUCKLOAD of work, not just some piddly shit task you can do in ten minutes. "Hey Bob, can you swing by the office in five minutes? We're having a quick meeting." NO! THERE ARE NO QUICK MEETINGS!
I used to dread my work email. Even if it was the dumbest, easiest task in the world, I treated it like someone dropped a fucking grenade in my lap. I wanted nothing to do with it. Then I'd finally relent and do the task and it would turn out to take roughly twenty minutes and I'd be pleasantly surprised at how easy it was, and then annoyed at how bored I was afterward. I was not a good employee.
I'm on the mailing list for Gawker editors, which means I occasionally get emails in my inbox that say NICK DENTON in the FROM column, and they never cease to be terrifying. They're always mass emails that have nothing to do with me, but I always think it's gonna be some personal email where Denton tells me I legally signed my testicles away to the network and a personal genital harvester will be at my door in ten minutes.
Chris:
This may sound obvious to you but I'm struggling with it. The girl I want to marry and have been dating for 2 years is moving home to Columbus, OH in a few months. She hasn't outright said that she wants me to move there with her but it's clearly what she's thinking. Thing is, I just moved to San Diego in Nov and I live right on the water. Is the girl of my dreams worth moving away from paradise to Tresselville?
She's moving home? So does that mean she doesn't have a job? Do you? All of those things matter, you know. I've been to Columbus and it's pretty much useless in every conceivable way. But the girl I loved wasn't living there, so that kinda changes the game now, doesn't it? There's no point living somewhere nice if you're gonna be miserable because your lady isn't there. Surely, you two crazy kids can negotiate this thing out. I suspect you may as well start packing your bags. Women usually win the location argument. I would know.
Josh:
I have a watch that my wife gave me a couple years ago to replace one wrecked by our kids, featuring a leather band. I quite like it, and wear it basically every day. At this point, it's been marinating in army sweat and drying out, every day, for those same couple years. It's kind of like the world's grossest jerky at this point.

It has started smelling vaguely like an old sweat sock. But I find it strangely appealing, and find myself sniffing at it multiple times a day. I can now sample my own funk surreptitiously. It's really pretty worrying. Should I get rid of it before somebody else notices how revolting it is?
Nah. You're married. Who are you trying to impress? May as well keep wearing your watch that smells like a diaper full of barf. Does it have the green gunk on it? Green watch gunk is one of nature's most enigmatic substances. And it can make your wrist smell too. Like an old Band Aid. And the skin gets all swollen and clammy. Intoxicating.
I have a metal watch and metal watches are helpful in preventing watch odor. Also, I spend every waking moment pretending my watch is part of my FUTURISTIC ROBOT ARM and that it can fire seven different kinds of toxins at my enemies. And it has a periscope. Eighth grade me is drafting an unreadable screenplay of it as we speak. Working title? TIME'S UP.
Joe in Chicago:
What ethnicity is Captain Hook?
Iberian.
I was at home the other weekend trying to nap in the TV room while my kid watched Peter Pan, and that's an awful movie to try and take a nap against. It's just 90 minutes of Captain Hook screaming out SMEEEEEEEE! and PANNNNNNNNN!!! Say what you will about "Max & Ruby," but it's quiet enough that I can fall asleep against it in about four seconds. And there are no songs, which is nice. Any movie or show with musical numbers, like fucking "Special Agent Oso," will ruin your nap-on.
Josh:
We were discussing the greatest suicide scenes in film history. The clear #1 is obviously Full Metal Jacket, nothing can ever top Private Pyle on the can. A distant second was the great scene from Last Boy Scout. Other nominations included the warden from Shawshank, Walken in Deer Hunter and Randy Quaid in Independence Day. Any others can crack those 5?
I would take Thelma & Louise before I took Randy Quaid. Maybe that movie wasn't your thing, but everyone remembers those two gals driving off a cliff. And I dunno if this counts, but Obi Wan's death in Star Wars could conceivably count as a suicide. I'm still pissed he let his guard down on purpose and let Vader turn him into Ghost Obi-Wan. I think that was a really smug move on his part. "Go ahead! Kill me! I TOTALLY LET YOU WIN." I agree that Pyle is #1. Nothing's more dramatic than the gun barrel in the mouth with the blood spatter going out the back. It's a real pro's move.
And the worst movie suicide is Robert Sean Leonard in Dead Poet's Society. A crown of thorns? God, talk about a drama queen.
JTW:
This is the menu at the noodle shop next to my new office. I'm pretty sure the item labeled "bukkake" isn't what I think it is, but I'm not about to order it and find out.
Gotta go with the soba bukkake. The udon bukkake is gonna look wayyyy to much like the real thing. So thick and ropy.
Udon noodles are delicious, by the way. In soup. Not bukkake style.
Teej:
Okay, serious question. If two people fucked in space (on a space station) and they had a baby, would that baby be technically an illegal alien? Think about it. The baby is without a doubt an alien because he was born in space. He's obvious an illegal alien because he's wasn't born in a specific country. Also, the baby's parents would be treated like gods because space is the only place were people hasn't fucked at.
I assume the International Space Station probably counts as US soil if the cosmonaut parents are both American. If they're different nationalities, then that's a whole mess of red tape that I can't begin to unravel. Also, people have emailed in to previous funbags to let me know that biologically, it's darn near impossible get a boner in space. Something about gravity and blood flow and the presence of a psychotic talking computer on board the craft. Thus, no alien babies for you. It's a shame, because as Teej notes, space is the only place were people hasn't fucked at. The final fucktier, if you will.
Brian:
Do you ever see those stick figure stickers of people's families that they put up on their mini-vans? Every time I see them I can't help but think how excited this would make me if I were a serial killer. It would be the wholly grail of information.

"Alright... a son and a baby... 2 dogs? Fuck that.... How 'bout this Astrovan over here... Married soccer mom with 3 young daughters, no sons and no pets? CHECK." Or maybe it would take the fun out of it? I'm torn.
No, no. You're right. Anyone who freely posts their demographic information on their car for free is begging to have their family bound up and murdered. I hate those stick figure things. Because I know your family isn't REALLY that happy. I bet your kids scream a lot, and you aren't getting laid enough, and your wife feels overburdened. So don't go throwing up some cutesy illustration on your car that makes everyone think you're a modern version of The Waltons.
Johnny D:
If you had to rank all athletes past and present according to a calculation of overall athletic excellence multiplied by how much their name relates to pooping (skill x poop factor = score), who would be your top 10? So far my ranking looks like:

10: Steamer Flanagan (1905 Pittsburgh Pirates)
9: Mo Cheeks
8: Bartolo Colon
7: Fanny Blankers-Koen (1948 Olympics, 4 golds in track)
6: Assol Slivets (Belarusian freestyle skier)
5: Craphonso Thorpe
4: Pooh Richardson
3: Kaka
2: Albert Pujols
1: Sylvanus Dung Dung (1980 Olympics, gold in men's field hockey)

Honorable mention: any athlete with the initials BM.
Very, very hard to argue with that list. And you have to admire the historical research that Johnny put into his list. I imagine him at the public library, wearing latex gloves and using a tweezers to leaf through old copies of the New York Times to find the perfect poopy athlete name.
Time for your email of the week. Hold onto your saddle:
Tim:
I worked for a couple years on a cattle ranch out west. For ease of rounding up and selling the young steers for slaughter in the fall, the aim is to get all the cows pregnant at about the same time earlier in the year. Accordingly, the bulls and cows are kept apart 95 percent of the time, but at a certain point, usually midwinter, they're gathered together in the same general locale. Even then, however, the bulls are segregated in their own paddock until the cows are judged to be ripe for sexin'. But fences don't keep out airborne pheromones, and those cows are putting out chemical come-fuck-me signals like there's no tomorrow.

This drives the bulls absolutely red-eye insane with hormones and lust. They are prepared quite literally to fuck anything their addled brains perceive to be a potential mate. Which includes things like troughs and tractors. It also includes people. And the people most likely to be the victims of this madness are the poor saps who have to get into the bull paddock to feed and water the horny beasts.

I have been such a person.

Now, before I get into that, a word on bull penises. They are not like your and my penis. For one, they don't require engorging. They are permanently stiff and housed internally like a sword in a sheath, ready to be thrust forth by the clenching of what must be some damn powerful muscles. Second, they don't look like your and my penis. They're tapered to a point, kind of like a gently curved candle, and they're covered in protusions that look like limpets or broad, barely-dulled thorns. Third, they're enormous. Forget horse cock (as if one can!). Bull cock is a good 30 inches, maybe even 3 feet, of sexual aggression. Fuckers can practically scratch their chins with their junk. Oh, and their balls are huge. "Coconut" is an understatement.

Have we got the picture? Good. Multiply by twenty and assume a total mass of around 40,000 pounds. That's the scene I stepped into twice a day while giving the bulls their hay.

And they wanted my young ass. Like any smart newbie at Sing Sing, I tried to keep my back to the wall (well, fence) and my enemies in front of me. But it wasn't always possible. I'd get into my work, dragging the bales and cutting the wires and tossing the green stuff into the feed racks ... and then I'd notice the eerie quiet ... and I'd turn around ... and instead of wandering around bellowing to the hills about their blue balls, or bashing their heads together in an effort to establish who had the bluest balls of all, the bulls would be watching me ... following me ... flicking their dicks out at me ... basically acting like the bad guy in every classic Western, casually picking his nails with a Bowie knife the size of a cricket bat while saying casually sinister shit like, "So, city boy - I hear you've been asking about my claim on the Comstock lode." This was intimidating enough, but add to it the fact that the "ground" I was walking on, my path to safety, was an ice rink of bull-piss studded with rock-hard chunks of frozen mud, and you can understand my nerves.

Now, for the record, I was never actually raped, or even mounted. Though the same cannot be said of the ranch manager, who actually was mounted one time (and in the dairy barn, no less). Now, even in that case, in truth the sensible fear is not rape but death-by-crushing: these animals can weigh 2,000 pounds or more, and if they put their hooves on your shoulders for a quick doggy-style romp, you'd go down like an engine block had landed on your shoulders. The coroner's certificate would read something like "death by powdered pelvis - presence of half a liter of unidentified milky-white substance curious but unrelated."

Also, Wranglers really are tough. Even a bull katana can't penetrate them.

But hey: it's not only the act that counts. It's the intent. I'm not sure I'd give a bull the dignity of being able consciously to commit a crime - they're genuinely stupid bastards, though exquisitely designed to complete their earthly task - but they definitely wanted to fuck me, a human being. If I'd given them the chance, they would have. And I'm pretty sure I'd have felt violated, if not by the letter of the law then by throbbing, limpet-studded reality.

The moral of this story? Good mamas don't let their babies grow up to be cowboys.
They certainly don't.