So that lawsuit pitting Vince Young against both his former agent and his former financial planner is going pretty much as amicably as we told you it would. Young, who's been out of the NFL since August and is back yawning his way through classes at the University of Texas, is suing Ronnie Peoples, his former financial planner, and Major Adams, his former agent, because he claims they took out a $1.9 million loan in his name during the NFL lockout and used the money for themselves.
Pro Player LLC, which issued the loan, obtained a judgment in July that says Young still owes them a $1.7 million balance. Pro Player gave out more than a dozen loans to NFL players during the lockout, and at terms that were quite favorable to Pro Player: The interest on Young's loan was a whopping 20 percent.
[Young] testified during a deposition in December that he "probably" signed some of the loan documents in the presence of a notary at a law office in Houston. But he said he had no need for a loan, never sought one and didn't have access to the proceeds.

That account was disputed by Peoples, who testified that he personally discussed the loan with Young at a meeting in Houston. Moreover, funds from the loan, which closed a day before Young's 28th birthday, were used to satisfy the quarterback's "obligations," Peoples said.
G/O Media may get a commission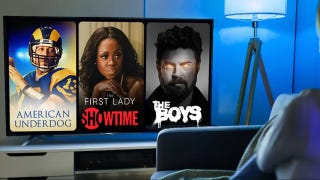 UNDER $1
99¢ Prime Video Channels
And what obligations would those be? Peoples elaborated during his own deposition, which was videotaped last month:
"I think we still would have been OK to go ahead and survive until the next season, but he had a birthday event coming up that he paid 300 and some thousand dollars for," Peoples testified. "That's what prompted that call."
Three hundred thousand dollars. For a birthday party. Yeah. I got nothin' to add. (We tried to find a photo of the party but we were unsuccessful. The photo above will have to do.)
Young's attorney denied that any such party was ever thrown. He also said no meeting to discuss the loan had taken place. The lawyer did acknowledge that Young believes he signed those notarized documents related to the loan, but that Young thought the paperwork was just "banking instruments." Peoples went on to say Young was spending up to $200,000 a month, and that he was asked to secure the loan by Adams and by Young's uncle, Keith. Young's attorney said Young is unable to account for anywhere from $5 million to $7 million, which is why Young is suing Peoples and Adams for $5.5 million. But Adams has testified that he had nothing to do with the loan and that Young had fired him before it was even taken out. Keith Young has yet to be deposed.
Like we predicted, this is going well.