FIFA, if you are so inclined to take notice, is potentially in the midst of a total organizational breakdown, because we're now hearing what we already knew all along: FIFA is very corrupt. This is a special breakdown, though, because it is one in which the accused person in power attempts to deflect any wrongdoing by turning it back on the real person in power, and that just might make the whole thing crumble and collapse before too long.
Or we might just find out that FIFA president Sepp Blatter is an indestructible robot, and international soccer will remain like this forever. It's all still up in the air.
Today, Jack Warner, former FIFA VP and CONCACAF president, published a letter in the Trinidad Guardian that promised a "tsunami" of corruption charges against Blatter and FIFA. Warner's letter comes just a week after the Telegraph posted a video alleging to show him telling members of the Caribbean Football Union that they must "decide whether to accept the 'gifts' of $40,000 (£25,000) each, and urging them to vote for Bin Hammam rather than Sepp Blatter in the [FIFA] presidential elections."
That plan, of course, fell very flat. Mohammed bin Hammam is now banned from FIFA for life.
G/O Media may get a commission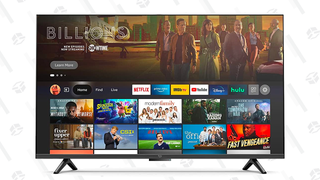 22% off
Amazon Fire TV - 50" Omni Series 4K - Early Access Deal
Warner wants revenge for the video leak, and he's hyping his vengeance as much as he possibly can—despite the fact that, having resigned from his FIFA post to avoid any career-damaging investigations, he probably doesn't have the standing to bring Blatter down. From his letter in the Guardian:
Those who listened to the video recording which was promoted in the London Telegraph last week and chose not to be duped by the pressures of foreign interpretation and anti-Jack Warner sentiments, would realise by now that what was supposed to be an exposé of Jack Warner, simply fell flat. The truth is that there is much to be told about how the FIFA conducts its business and I have promised in the past a tsunami that would hit the FIFA, and indeed, it will come.
He goes on to say that he will reveal "the racism that is within FIFA," "the levels of religious discrimination," and "the Zionism, which probably is the most important reason why this acrid attack on Bin Hammam and me was mounted." He also writes that, during his eight-year term as Deputy Chairman of the FIFA Finance Committee, he was unable to determine Blatter's salary despite numerous attempts and requests. And finally, there is promise of a conspiracy:
Let me assure all that the promised tsunami will come. All the real "gifts" that Blatter gave to secure his two elections will turn stomachs inside out. The conspiracy to protect the FIFA's throne for Michel Platini by getting rid of the Muslim Bin Hammam and the interruption of the successes of Jack Warner will be uncovered for all to see.
Warner closes with the promise that he has "much more to say" on the topic, but he'll wait until after "Bin Hammam's case before the Court of Arbitration Sport (CAS) is resolved" to reveal it. Which means, unfortunately, that Blatter has some time to fortify his robot pieces and make this all go away.
Former Fifa vice-president Jack Warner is caught on tape offering 'gifts' of £25,000 to Caribbean delegates [Telegraph]
Jack Warner responds to London Telegraph video: Ingratitude worse than witchcraft [Trinidad Guardian]