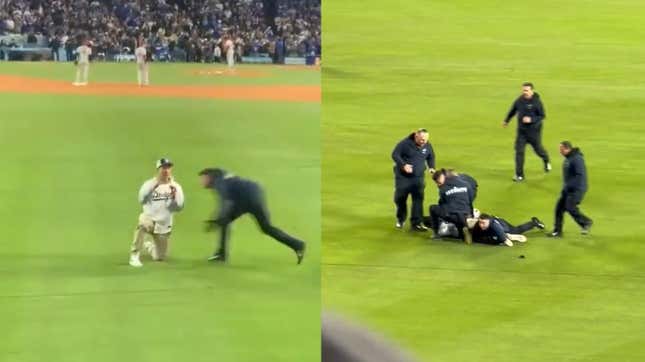 I don't know if that's what this horse's ass was actually doing, but man it's fun to just go ahead and think he thought he could get away with proposing on the field:

Terry Crews: Dream come true working on Longest Yard
There's so much to love about this. First and foremost the fact that about three seconds after this dude gets fucking Terry Tate'd in front of 50,000, DMX's "Ruff Ryders Anthem" starts playing on the stadium PA, which…YES. Security definitely opened up shop. [Editor's note: RIP DMX]
Second, the reaction of Lourdes Gurriel Jr. First he's calling for security, and then he's gobsmacked by the tackle. Ray Lewis made a career out of people thinking he tackled like this security guard (but didn't actually). Honestly, that should be everyone's reaction and remorse when calling the cops for most things.
Though we gotta hand it to this security guard. He gets low, he drives through his man, powers through the legs. You can't teach it any better.
Again, at the time of writing, I have no idea what this guy was actually doing on the field. We just know he's exactly where he doesn't belong. He's on one knee, and reaching out in a way that makes it seem like he was proposing. Which means he's an asshole. To all of you men out there (to this day I've never seen a woman attempt this horseshit but feel free to correct me), proposing at an arena or ballpark is a dick move. It's not about love, it's about celebrating yourself. You're not putting yourself out there nearly as much as you're putting your hoped-to-be-betrothed in a box she can't escape. She'll almost certainly say yes because if you've gotten to this point that any man thinks this appropriate she probably cares for said dickhead and wouldn't want to embarrass him (but some have, they're called heroes of our time), but it's not a full commitment. It's avoiding public scrutiny.
It's really no different than the very public "take me back!" gesture with whatever mechanisms idiots think are appropriate for that (and I've made this mistake in my younger days so I know). It's asking for outside pressure to get the result you want. That's not love. That's coercion. Manipulation. Fuck, this is how Billy…I'm sorry, WILLIAM Corrigan wanted to get D'Arcy back into Smashing Pumpkins without asking her directly. Do you want to be like WILLIAM Corrigan? Of course you fucking don't. No one does.
So yes, all of you who have done this or even thought about it deserve to get Goldberg-speared in front of thousands and the resulting back problems I hope this douche canoe now has. As we learned in other areas yesterday, sometimes karma does work.
Midseason form on Opening Day
To be fair, Shohei Ohtani did benefit from Hunter Renfroe pulling a Homer Simpson:
No such thing as statement wins
I gave up on the idea that there are such things as "statement wins" a while ago. Given our playoff/ring-centric outlook on every sport now, what happens in the regular season almost certainly washes away in the wake when the playoffs start. There is rarely, if ever, a mental edge to be gained by anything that happens when players are only at most 80 percent engaged and saving themselves for the games they know they will be really judged on.
Of course, when you walk into someone else's building and put a foot up their ass sideways to the tune of winning by 41, it's hard to ignore, as the Celtics did to the Milwaukee Bucks last night, 140-99.
The one takeaway that might matter come May, when these two teams are likely to square up for two weeks, is how hard Giannis Antetokounmpo had to work in his light 25 minutes for the 24 points he got. It took 27 shots, and he only shot three free throws, and this is the kind of thing the Cs will settle for every time.
No team is more equipped to throw multiple defenders and looks at him, as well as set up the picket fence across the free throw line with length and agility that stunt his drives to the hoop. Giannis still isn't the outside shooter to make teams pay for doing this regularly. Maybe Khris Middleton and Jrue Holiday will have better nights come the playoffs (combined 5-for-billion last night) to draw the Celtics out of this look. But four out of seven times? One wonders.