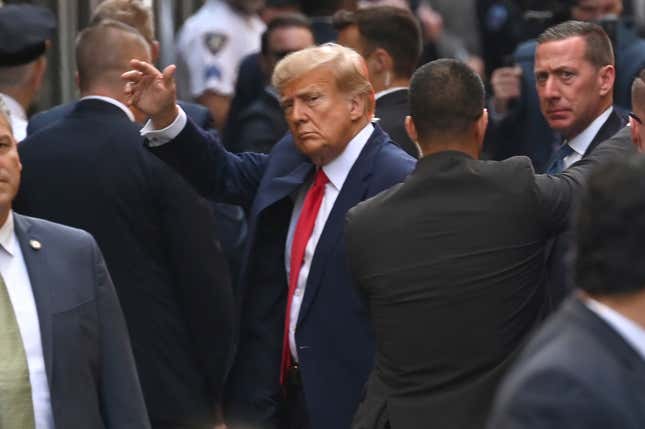 Former President Donald Trump surrendered to New York authorities ahead of his arraignment Tuesday on charges related to alleged hush money payments made to Stormy Daniels. Obviously, it's a fairly massive deal… unless you live in New York. This is literally just another Tuesday for them, and definitely not, say, Games 1, 2, 5, or 7 of a Knicks first-round appearance.
An American Pastime: Booing politicians at sporting events
Updated: 
Contrary to what was being reported, Trump has not been charged with conspiracy.
Trump, who pleaded not guilty to the 34 charges, has tried to make his brand as synonymous with New York as pinstripes and pizza for years, and despite what every cable news outlet has been screaming, nobody really gives a shit. New Yorkers are the kings of "This fucking guy"-ing people, and it sounds like that's exactly their reaction to any headaches the former president's indictment has foisted upon their day-to-day subway rides.
It takes a lot to get a commuter to just remove their earbuds, and Trump thinks he's going to move the needle like the New York Knickerbockers winning a playoff series? Good luck. I'm not saying Trump is the Brooklyn Nets of the city's very public figures, but I'm not not saying that either.
The Giants, Aaron Rodgers, Yankees, Mets, Knicks, and Rangers are all more front of mind in the Big Apple than this entire Trump ordeal. It could be that they genuinely don't give a shit about a guy who's been accused of bilking the city's residents and contractors out of money for years, or that nothing sticks to Trump, and they know that as well, if not better, than most of the country. Regardless of why this is a sideshow, it will likely end up being simply another sideshow — one of the countless unseemly entries on a never-ending list of why Trump is unfit to run a Jimmy John's let alone the free world.
There was a recent article about Trump's obsession with New York and how it's now delivering his comeuppance as if people haven't been more than happy to tell him to go fuck himself for decades. Today is no more, or less, interesting than any other in New York, and we can all take notes because ignoring the orange buffoon seems like the best way to let him know that he's not important or special or whatever he's striving to be.
I guess what I'm saying is, never change, New York.