WASHINGTON, D.C. — Tom Brady was taking the day off.

As the White House prepared to welcome the New England Patriots for Wednesday's championship ceremony, as little snot-nosed kids threw on their Julian Edelman and Rob Gronkowski jerseys, as a train made its way from New York to Washington, D.C., news broke that the (five-time) Super Bowl-winning quarterback would skip the opportunity to visit President Donald Trump. Brady cited a personal family matter for his absence, providing a sufficient enough explanation to avoid any further investigation. In the week before the title game, Brady had revealed that his mother Galynn had a serious illness. It had been discussed in a tone which sounded serious, and since two and two went together, that was that. There went the possibility of Brady making a face while receiving an awkward Trump handshake in front of everyone.
Brady wasn't the only champion to forgo the trip, although the other reasons differed from his. Since James White ran in the game-winning touchdown and the Atlanta Falcons experienced the first seconds of a feeling that could be described as DIY, non-anesthetic heart surgery, every Patriot had been monitored to see if they would skip the White House visit because of the people who occupy it. Even though the tradition, popularized by Ronald Reagan, has never been illuminating or compelling, and athletes such as Tim Thomas and Matt Birk have declined invitations for their own reasons, this year and presidency is inarguably different, especially given that the leader of the free world adores the team and its owner, Bob Kraft.
A few of the Patriots had made their decisions publicly before Wednesday: Devin McCourty and LeGarrette Blount said they didn't feel welcome; Alan Branch was skeeved out by the "grab them by the pussy" video; Martellus Bennett thought his reason was obvious; and Chris Long didn't want to let down his son. Dont'a Hightower also said he'd skip, because he had already visited in college when Alabama won a title.
Others weren't vocal about their reasons, Trump-related or otherwise. According to CSNNE, 34 out of 68 players skipped the ceremony. With no Brady, McCourty, or many other Patriots, who showed up? Gronk, a vibrating boulder wearing a suit, was present and had some fun with Sean Spicer's presser. New England's two other QBs, Jimmy Garoppolo and Jacoby Brissett, attended and kept a space open for Brady in a photo. (Brissett also had a separate Instagram in which he wrote at length about his admiration for Obama.) And, of course, head coach Bill Belichick was there. Using his "satisfied grumble" tone, he delivered a brief speech and presented a Super Bowl helmet to Trump.
Out of the approximately 30-minute ceremony, the most fun came when Trump talked. (Not only was the president going to speak, but he was going to speak about sports—for more than five seconds.) Trump, who left his Super Bowl watch party while the Patriots were down 28-3, gushed about the team's comeback and took a jab at the pundits—"good ol' pundits"—who thought the game was over.
G/O Media may get a commission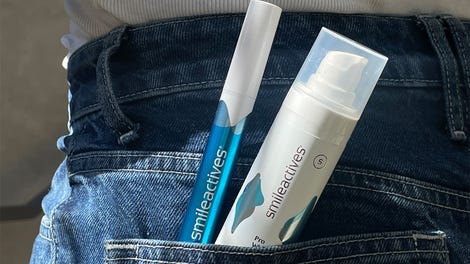 58% off
Whitening Powerhouse Pen & Gel Duo
Any time Trump speaks, there are at least a few occasions that involve him dawdling off the path of coherence. In person, it was an incredibly entertaining experience. He was reading from a prepared speech, but when he didn't, there were moments where one could sense the crowd—not just the press pen, but the actual crowd, who were there because they presumably liked the president, the Patriots, or both—wordlessly wondering, Okay, where's he going with this? It happened when Trump lauded Bob Kraft's consistent success with his team and compared the New England dynasty to that of the late Yankees owner George Steinbrenner, who, naturally was, "as you know, was a very good friend of mine." A transcript of what happened next:
George was a great champ, too. But there was a little more turmoil. [Three-second period of silence that felt like a century.] A little more turmoil with his victories, and that's okay. He was another great one.
Was turmoil supposed to be the punchline? What was the purpose of this thought? No one will ever know, because there's no way Trump's mind retained a record of him saying that for more than an hour after he did.
While running through some of the game's highlights, Trump praised "the fourth-down conversion" by Danny Amendola. "Where's Danny?" he asked. "Way to go, Danny." Danny wasn't there, but later expressed and deleted thanks for the acknowledgment. The receiver said he couldn't make it because of a funeral.

Trump also praised "the incredible catch" courtesy of Julian Edelman. "We all said, 'No, that ball was dropped.' Isn't it good? You know, in the old days, they might have said, 'That was dropped.' Replays are good. You're starting to like the replay. Great going, Julian."
The ceremony started ahead of time and finished quickly. Players Joe Cardona and Malcolm Mitchell were made available for questions. Neither of them had played with Aaron Hernandez, the former Patriots tight end who was found dead in his prison cell hours earlier, so although both were asked about his death, they had little to say. The event was extraordinarily bland, the weather was cloudy, and nothing of real interest was said or done. In other words, it was Bill Belichick's ideal day.