The Patriots were bad, bad, bad last night, getting beaten soundly on both sides of the ball in a 41-14 road thumping at the hands of the Chiefs. But a good part of the attention is naturally going to settle on Tom Brady, who's been so consistently great over the course of his career that this season's very real slump has reached a worrisome length. But if Bill Belichick is worried—or if he's making plans for the future—he's not talking.
Brady was 14-for-23 for just 159 yards last night, with three turnovers to boot. It was a blowout by the time he left in favor of second-round pick and presumable QB of the future Jimmy Garoppolo, and Garoppolo was playing against a second-unit defense, but the Pats looked like a totally different team. Garoppolo was 6-for-7, including a lightning-fast and crisply efficient 81-yard touchdown drive. If you put much into body language, the offense's return to the sidelines provided plenty of fodder:
Tom Brady gave passive high-fives to the other offensive players coming off the field — Gronk, Julian Edelman, the offensive linemen — but stayed clear of Garoppolo. Brady didn't offer him any congratulations or daps.

When they returned to the bench, McDaniels sat in between them — Brady on the bench, Garoppolo on a water cooler. The two quarterbacks didn't appear to speak. Brady watched the rest of the game silently with his arms folded, with no teammate coming within 20 feet of him.
You can't blame him for being pissed. It was a disastrous game in what's threatening to be a disastrous season, and at age 37, the arrow's trending in the wrong direction. So one brave reporter (CSN New England's Michael Giardi) asked Belichick at his press conference what everybody else was thinking: has Brady been bad enough, and did Garoppolo look sharp enough, to justify thinking about a change?
(It's a great question. Not because the Patriots will or should think about benching Brady now—that'd be insane—but because it was worth seeing how Belichick would react.)
Bill Belichick was asked after the game if the quarterback position would be evaluated by the Patriots this week. Belichick was dismissive, chuckling briefly, at the question. It was the only question he didn't answer in his nine-minute press conference.
G/O Media may get a commission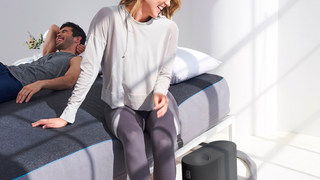 Eight Sleep Pod Cover
This team has deeper problems than at quarterback. The offensive line has multiple rookies, the receiver stockpile hasn't been adequately replenished in years, and just last month the Patriots shipped Logan Mankins out of town because he wouldn't take a pay cut. All of this has to be especially frustrating for Brady, because he has repeatedly restructured his own deal to free up cap space to, in theory, get him more protection and more weapons. Instead, he's last in the NFL in completion percentage on passes of more than 10 yards, and second worst in the league in off-target percentage.
Brady's last restructuring, before the 2013 season, gave him a short-term raise in exchange for future flexibility for New England. If he's on the roster at the end of this year, his next three seasons become fully guaranteed at $7M, $8M, and $9M, all incredibly cheap salaries. When that contract was negotiated, it was assumed that Brady would restructure again after 2014 if he remained an elite QB. That's probably not going to happen now, so after this Patriots season—which is indisputably Brady's, in a mediocre division where ten wins should do it—he seems likely to become a desirable and affordable trade chip. The Patriot Way brooks no sentimentality.