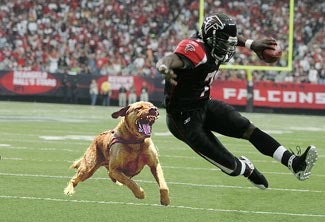 We hope you already own a Michael Vick jersey and haven't burned it, because it's about to become a rarity.
Before you couldn't buy a Ron Mexico jersey from NFL.com. Now you can't buy a Vick jersey anymore.
"We have suspended sales of Vick-related merchandise on our official league e-commerce site, NFLShop.com," said NFL spokesman Brian McCarthy. "This includes Vick jerseys and collectible items such as autographed balls and other memorabilia." McCarthy said the decision was made because it was "not appropriate under the circumstances." The suspension will take place for the immediate future.
It's kind of a fascinating decision, though we suppose it makes sense that you wouldn't want to sell a piece of official merchandise that people will just pick up dog excrement with. But yeah: Hang onto those Vick jerseys: Could be a collectible!