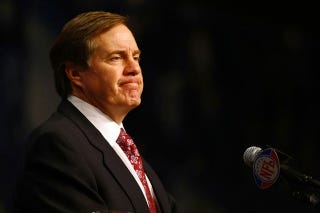 The conventional wisdom is that Bill Belichick is the greatest football coach in the history of the world. On this point, conventional wisdom may be right. Who knows, or cares really, it's all so subjective. What is not subjective is that Bill Belichick is one of the greatest football coaches in the history of the world. And if Robert Kraft had listened to the wrong people, he would be doing it somewhere other than Foxboro.
Kraft recounted the first few years of the Belichick regime and noted that it was not all Super Bowls and Hall of Fame quarterbacks from jump street. After a shaky start, he apparently got some unsolicited advice regarding Belichick from the unlikeliest of sources.
"I think he had a history at Cleveland," Kraft said Friday. "His first year with us, he went 5-11, and then he went 1-3 [to start 2001], so he was 6-14, and I had people sending me tapes of him doing press conferences, and heads of networks telling me I shouldn't hire him. But what I had learned is that this guy really knew the game. I think Bill's brilliance is understanding what fits for our team."
While Belichick press conferences are obviously not "Must See TV," this shows a predictable lack of patience on behalf of the network executives. They would rather get in bed with the hot, flashy name—or bring in some retread—than allow something really special to develop. Luckily for the geographic region known as New England, the same people responsible for putting Whitney and ¡Rob! on my television are not making head coaching decisions for football franchises.
h/t Wayne

Television Networks Told Robert Kraft Not to Hire Bill Belichick [NESN]