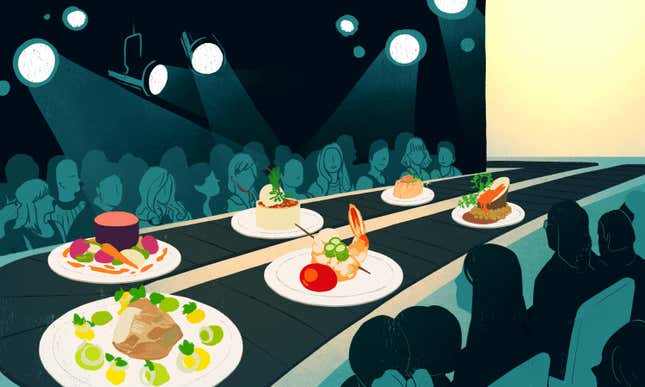 Last month, celebrated Danish chef René Redzepi opened up a pop-up restaurant in Tulum, Mexico. This restaurant will only be open for seven weeks. Dinner costs $600 and lasts well past midnight. You will not eat at this restaurant. You will not even come close to ever being able to eat at this restaurant. And yet, critics went anyway, and—SHOCKEROO—they really enjoyed themselves. Redzepi's fellow chefs also made the pilgrimage, because the high-end food industry now is just apparently a roving club of people waxing poetic over their ability to shamelessly indulge one another.

Is Texas or Florida State a bigger national title contender? | Agree to Disagree
The amazing thing is how successful these chefs and critics have been in creating a cottage industry wherein consumers like me actively choose to live vicariously through them. I'm not immune to their charms. I love food, which means I also love me some food porn. I watch Parts Unknown. I eyebang the pretty photos in Bon Appétit. I read Pete Wells reviews of four-star joints with jaw-dropping prix fixe tabs. Hell, I was IN a goddamn food show. And I started watching Chef's Table, the ultra-serious Netflix docu-series that chronicles a selected chef's life as if they're a sitting fucking President, and lovingly photographs every dish of theirs as if each one will be made into a permanent installation at the Museum of Modern Art.
Everything on Chef's Table is filmed in geological slow motion. Certain cooking techniques, like the grinding of corn, are fetishized like nude bodies. It's a beautifully made show, and I think I made it halfway through my second episode before realizing that I hated it. Take this profile of ramen master Ivan Orkin, for example:
"I'm a 'go fuck yourself' kinda guy." That's Orkin's opening salvo. Which, okay. Fine. I'm glad you're a cartoonishly irascible New Yorker. Can I just have my fucking bowl of soup, please? Not everything I eat needs a story, man.
And yet, that's exactly what the high-end food scene does now. Food can't just be food. There has to be a mythology behind it (one new restaurant in Seattle has its own goddamn encyclopedia). More important, there has to be a person behind it—an ICON—preferably some completely obsessive loon who simply won't rest until he's foraged for the exact right sized ramp for your chilled soup course. These chefs end up revered like tech bros and getting filmed and profiled well past the point of absurdity. Don't believe me?
Why am I watching the Mission Chinese Food guy doing fucking SoulCycle? Does this really add to the experience of eating his kung pao pastrami? Do I really need to go into the mind of a chef? What if he's just a fucking moron who can cook good? What if your average chef is roughly as interesting as your average actor? I've worked in restaurants. A lot of chefs are ASSHOLES. In fact, I bet the more highly regarded a chef is, the worse he/she is (by contrast, Guy Fieri was a truly nice and delightful man). You're probably better off not knowing many of them! Yet that common assholery is often now portrayed as unrelenting PASSION, or something much loftier than it deserves. There's more than an echo of college coach worship in how these guys are portrayed.
All this chef idolization opens the door for any number of frauds and charlatans to take advantage. It's an act of faith when you go into a nice restaurant. You have to trust that the chef cares, and that he hired good people under him, and that he didn't wipe his ass with raw chicken before plating your carnitas. And there are too many fancy restaurants and too many chefs out there now for all of them to be trustworthy. The hard logic dictates that some of them, perhaps many of them, are probably conning you. Some of them have the LOOK down well enough to get away with serving you thoroughly average food. (Take it from someone who's been lured in by a chalkboard menu plenty of times).
You shouldn't just buy that every one of these chefs is a genius. Don't get me wrong, I'm glad that chefs are no longer looked down upon. I'm glad the reputation of the profession has been elevated. But this is a GROSS overcorrection. I don't need a six-volume biography of some surly noodle guy. Let one of these guys find the Trump pee tape, and THEN we can canonize him. Restaurants are a business first a foremost, and part of that business means that the real art is in the hustle. Take it from Bill Buford when he hung around Mario Batali: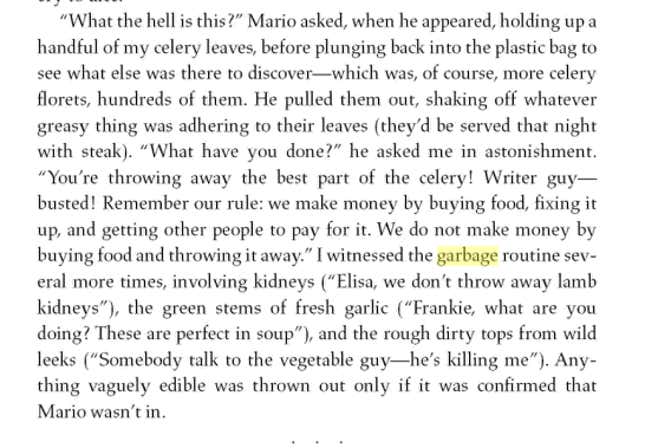 You and I currently live in the golden age of food. It has never has been easier—and in some cases it has never been so affordable—to seek out tasty things to eat. I'm old enough to remember when sushi became A Thing here in America. Charlie Sheen had a sushi robot in Wall Street and it was the wildest shit ever.

I'm happy for the food revolution. I'm happy that food has become such a vital part of the greater culture. I'm glad everyone has a chance to eat sushi, and bulgogi, and delicious breakfast tacos. So it's strange to me that so much of the food scene now is centered less on what you can eat than what you cannot, and it prizes many chefs who are bizarrely determined to NOT give everyone a chance to try their best food, whether it's opening some pop-up restaurant a thousand miles away, or changing the menu every hour because they wanna "push the envelope," or opening an affordable restaurant that can only seat five and a half people at a time and demands testing the limits of both your patience and comfort. We live in a time of plenty and yet these guys are cranking out FOMO at an almost inhuman pace.
And for what? Is the world really better off? Or is this a COLOSSAL circle jerk at a point in history where we can't afford circle jerks? I love food, but chef worship has diminishing returns, especially when it's all in service of a pursuit that can be—despite everything you hear about sustainability and whatnot—awfully superficial. No one cured cancer perfecting an uni custard. You can, and should, be a bit more skeptical of chefs. After all, I think we all know what happens when you put all your faith in a "go fuck yourself" kinda guy.