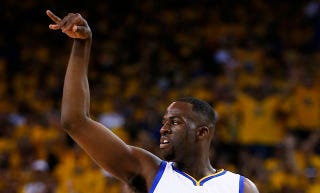 Draymond Green certainly didn't deserve to win the Finals MVP award (neither did Andre Iguodala, for that matter), but it's hard to imagine the Warriors putting this series away without his resurgence, which began in Game 4 and ended with last night's championship-clinching triple-double.
As we said after Game 3, it's not crazy to say that Green is the Warriors' most important player. Their defense relies on his ability to defend multiple positions on the court while playing as an undersized big, and their offense relies on his ability to be a playmaker in the pick and roll with Steph Curry. This was especially true this series, with the Cavs hedging Curry as hard as possible on every pick and roll, which led to the ball ending up in Green's hands on the perimeter, an ocean of space in front of him and a four-on-three offense to initiate.
In this first three games of the series, Green's mitts were where the Warriors' offense went to die. He couldn't hit a wide-open three to save his life, and thus resorted to making ill-fated drives to the hoop that ended in shaky passes at Timofey Mozgov's chest. In those first three games, Green shot 26 percent from the floor while averaging just 2.6 assists and 7.6 rebounds per game. Shit was bad, and Green was killing the Warriors.
But this was Green last night:
Pay special attention to all the plays that begin with Green receiving the ball after setting a pick on the perimeter. During the first half of this series, those were the exact same situations in which Green wilted, but he consistently kick-started the offense from those spots last night. This was the marauding version of Draymond Green that helped make the Warriors a juggernaut all season, the guy who could he be relied upon to ignite plays that end with wide-open corner threes or alley-oops at the rim. This Draymond Green shot 48 percent from the floor while dishing 7.3 assists and grabbing nine rebounds per game during the series' final three games. It's no wonder that his arrival coincided with the Warriors ripping off three straight wins and an NBA title.
So what exactly precipitated Green's dramatic turnaround? The Warriors going super small and inserting him at the five certainly helped—giving him another shooter to dish to in those four-on-three situations was huge, and he found Andre Iguodala open on the perimeter multiple times—but even Green admitted after the game that he had more than a few mental hurdles to overcome after stinking up the joint in the first three games:
"I started being me" is the kind of boilerplate athlete-speak that usually doesn't tell us much at all, but it seems to ring true in Green's case. He's being legitimately introspective in that clip above, admitting that he was lost in his own head at the start of the series. That stuff about his game's reliance on his confidence feels authentic, too, given what he had to say to his mom right after the final buzzer:
Green spent big chunks of his postgame interviews polishing the chip on his shoulder, talking about how often he'd been discounted as a viable NBA player and how good it felt to prove his doubters wrong. This is what makes the NBA playoffs so much fun. The Golden State Warriors are a historically great team armed with a fantastic defense and an MVP who hits shots that previously had no business being taken on an NBA court, and yet their championship came down to a shit-talking goon who was drafted in the second round and wasn't even supposed to be a starter rediscovering his swagger.