Every morning, the fine folks at Sports Radio Interviews sift through the a.m. drive-time chatter to bring you the best interviews with coaches, players, and personalities across the sports landscape. Today: This is what passes for "75 percent" healthy.
Dwight Howard joined ESPN Radio in New York with the Stephen A. Smith Show to talk about how his health is right now, what percentage he would say he is, why he has been willing to play through injury this year, how bad his back still feels after surgery, if he thinks his free throw shooting is physical or mental and why he think he is not having fun playing basketball this year.
How his health is coming along:
"Health is getting there. It takes time. It's a lot better than it was at the beginning of the year."
If you were to project how you healthy you are, what would you say?
"Well my back is not all the way there. 75 percent. My shoulder is day-to-day. There are days where it feels really good and then get in the game, get hit and it's not as good. For right now I just have to learn how to play through it. and try to mix up my game. I'm known for always coming up and that leaves me vulnerable to guys hitting me so I'm going to try to play 75 and keep the ball up here."
Why take chances now when you just injured yourself further doing the same thing last year?
"Well I'm not taking any chances. Whenever I'm 100 percent or I feel good enough to play then I will play. I don't want this to be an issue that causes me to have surgery, that is the last thing on my mind is surgery so I'm going to do everything I can to stay away from it."
G/O Media may get a commission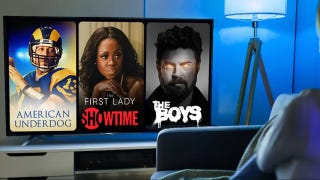 UNDER $1
99¢ Prime Video Channels
On how bad his back is after surgery:
"Well for people who have had back surgery they will see it more than a person who never has had back surgery. For me, even sitting down in this chair right now is causing my legs to go numb and having this tingly sensation all the way down my legs. That happens when I'm playing and that happens when I'm just sitting on the bench for a couple of minutes. It's not easy. There are times when I can't feel my legs when I'm out there playing. I try to play through it so it's not just like a situation where everything is back to 100 percent. That stuff takes time. When I got injured my nerves in my legs were short-circuited so basically because of my disk being on my nerves, basically shut everything down from my back all the way down to my toes. That takes time to heal. It usually takes a year and some people take longer. Most of it has healed up in less than three months That's why I was able to come back and play as fast as I was, but I'm still not ready to play yet."
What is more of an issue for you right now, your shoulder or your back?
"That's a good question. The back really controls everything and since I'm not 100 percent I would say the back. My shoulder, there is not too much I can do about it but I really have to continue to train and work on my core to get my back to where it needs to be."
Whether his free throw shooting issues are physical or mental:
"Mental. I shoot a million free throws every day in practice. I'm the first one there shooting and the last one there shooting. Anybody who is in our organization can attest to it. I work on it every day but my thing is mental. I will step up to the line in games and I think so much about missing because everybody says I can't shoot free throws, instead of doing up there and shooting it. When I do have those games where I go up there and shoot it they're good. My thing is all mental. The physical part has nothing to do with it. I don't think I have a bad shot at all, just think it's mental."
What things have prevented him from having fun playing basketball this year:
"I had to stop watching TV because everything was so negative. 'Gotta take the headband off, that's why he's not playing good.' I'm like what does a headband have to do with anything? That's like wearing shorts in a basketball game. Just an accessory. 'He needs to take the game seriously.' I've always taken the game seriously but at the same time I want to have fun. Why am I playing basketball or having a job if I'm not having fun doing it? I just let all that little stuff affect me and then it was touches and 'I need to get the ball' and people on the outside telling me this and that about what I needed to do to play. I can do so much for a team without even touching the ball and just have to find ways to go get it. Right now it's tough but I will pull through this."
How he feels about the situation in LA:
"You've been to games, we don't win and it's crazy. Everything is about winning. Everything is about pride and dignity and the historical background of the Lakers is amazing. You walk into the practice facility and see all the jerseys, the banners and all that stuff and it's something to look up to and look forward to. That's something that I really enjoy on a daily basis is getting treated by people that have the same goal and same mission as you, second place doesn't exist. That's what I love about it. (Host: You like that?) I love it. (Host: You like that pressure?) I love it."
This post, written by Chris Fedor, appears courtesy of Sports Radio Interviews. For the complete highlights of the interview, as well as audio, click here.
More from Sports Radio Interviews
• Amar'e Stoudemire is re-finding his game.
• Rudy Gay doesn't sound happy with how things went down in Memphis.