The fun just never seems to end for Dwyane Wade. If it's not divorce proceedings or failed business ventures, it's an ex-business associate telling tales of drug-fueled sex parties at the NBA star's condo.
According to Jose Lambiet of the Palm Beach Post, former Wade business partner Richard Von Houtman said he witnessed Wade smoking pot, and that that he saw "remnants of sex parties" at a Miami Beach apartment used by Wade, who was married, and his entourage.
"The man isn't what people worldwide think he is," Von Houtman said Sunday in an extensive interview. "He and his friends are just a bunch of idiots. I mean, I'm in Chicago at a charity party in 2007, and weed is being passed around and Wade takes a hit. In front of everybody.

"I got sucked into doing business with him because he has a first-class media persona, the new Michael Jordan. He was that good guy, father-of-the-year, celebrity who had his head on his shoulder. I found out after a year he was not like that."
Von Houtman rented Wade a $1.7 million, two-story condo in the Spear Building on Miami Beach for $20,000 in 2007 and '08. He turned it over to Wade and his childhood friend Marcus Andrews to use as headquarters for their marketing company, Wade Global Enterprises. But, according to Van Houtman, it also became a headquarters for sexy time.
"They'd have these parties in there two or three times a week," Von Houtman said. "There were always dozens of people in there. Rappers, Dwyane and his entourage, women they'd pick up in clubs. They (Wade and Andrews) both made it clear to me how their goal in life is to have sex with as many women as possible."
G/O Media may get a commission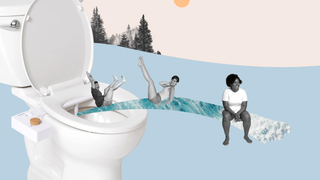 17% off
Tushy 3.0 Warm Water Spa Bidet Attachment
It's worth noting that Wade's publicist says that Van Houten's claims are "fairy tales." Wasn't it just a short while ago that Wade was the ultimate super-religious, happily married straight arrow? When did evil Dwyane escape the Phantom Zone?
Ex-Partner: D. Wade's Condo Used For Sex Parties [Page 2 Live]
So Dwyane Wade Likes To Have Wild Sex Parties ... [Sportaphile]