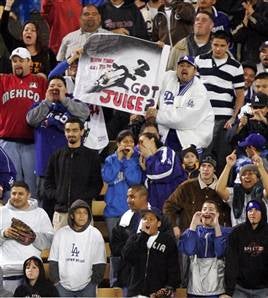 Well, if Barry can't break Hank's home run record at home, it might as well be his home-away-from-home, amongst his good friends at Dodger Stadium. Hey! Who threw that Dodger Dog? Actually, I'm interested to see what the reaction will be at Chavez Ravine this week, as the Giants begin a series there on Tuesday. Will the Dodger Faithful keep the courage of their convictions and hate on Barry ... or, simply stay away?
Prediction: Bonds will be lustily booed, but each game will be a sellout until he hits 755 and 756. It's a no-win situation for Dodgers fans; they should, by all that his Holy and Dodger Blue, stay home, but they just can't turn away when he hits. On Sunday Bonds was 1-for-4 with an infield single, Florida winning 8-5. Jeremy Hermida's tying double in the seventh off Matt Morris (7-7) and Jason Wood's single helped the Marlins end a six-game losing streak.
• First Strike. So your team scores 11 runs in the first to take an 11-0 lead ... and someone tells you it's not going to be enough to win. Wha? Mike Cameron and Adrian Gonzalez had two-run homers in the first as the Padres ended up beating the Astros 18-11. The Padres put up their highest run total in five years and collected out a season-high 19 hits while Tony Gwynn participated in ceremonies in Cooperstown, N.Y.; his enshrinement in the Baseball Hall of Fame
• Endangered Species. Gary Matthews Jr. drove in three runs as the Los Angeles completed the three-game sweep with a 13-4 win over the Tigers, who were outscored 34-13 in the series.
• Slap Me Five, CJ. Chipper Jones' five RBI, and Tim Hudson's three-hitter over seven innings led the Braves to a 14-0 win over the Diamondbacks, ending Arizona's eight-game win streak. Jeff Francoeur went 3-for-5 and scored two runs, just because I know you care about his progress.