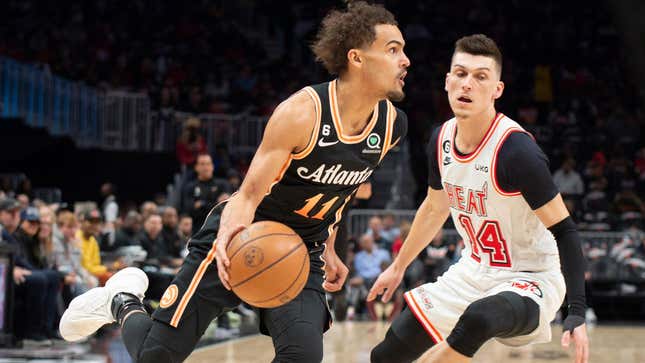 The Eastern Conference hasn't been as wide open as the West this season, so their play-in race wasn't nearly as exciting. There isn't much expected from the play-in participants in the east, even though the Miami Heat were in the Eastern Conference Finals last postseason. In the east, the Milwaukee Bucks and Boston Celtics are on a collision course destined to cross paths in the ECF. At least, that's how it looks. Philly has an outside chance at advancing past the second round, but aside from them, not even Cleveland at No. 4 has a great shot at making a deep run in the east unless they get a few breaks along the way. They'd need to have a run like Atlanta's a couple years ago when they landed in the ECF against Milwaukee. But the Bucks and Celtics need first-round opponents, so here we go with the eastern conference play-in tournament.
Rob Riggle, Amin Joseph, Joshua Malina and more share NBA Finals predictions
7 Miami Heat vs. 8 Atlanta Hawks
This has been a disappointing season for both teams as they surely expected more than qualifying for the play-in tournament. Miami was the No. 1 seed this time last year and had a miraculous run to game seven of the conference finals against Boston. Last year the Heat were a Jimmy Butler missed three-pointer short of making their second trip to the NBA Finals in three years. During the 2022-23 campaign, Miami spent most of it just trying to keep their heads above water but did finish six games over .500.
After the Hawks made the trade for Dejounte Murray last offseason, expectations for Atlanta were raised, and rightfully so. Adding Murray to a backcourt with Trey Young gave the Hawks the All-Star firepower needed to compete in the East. But Atlanta hasn't been able to get it together this year and finished the season at 41-41, relegated to the play-in tournament yet again. This is a game Miami should win, but sometimes you don't know which Heat squad will show up. If playoff Jimmy is on the premises, Boston better prepare for another tough series with Miami.
9 Toronto Raptors vs. 10 Chicago Bulls
Neither of these teams stands a chance of making it out of the first round should they make it through this tournament. The Raptors were the No. 5 seed in last year's playoffs and looked like they could give any team a run for their money. This season hasn't been the same, and they've fallen far enough to where this tournament is the ceiling they'll likely bump their heads against. The most exciting thing to happen for the Raptors this season is when Fred VanVleet put a referee on blast about his horrible officiating. So, there's a very good chance Toronto might not beat Chicago in this opening play-in game.
Another failed year in Chicago saw Lonzo Ball miss the entire season while his team struggled in his absence. With Zach LaVine and DeMar DeRozan leading the way, Chicago should've been better two games under .500 this year. The triple threat of Ball, LaVine, and DeRozan was supposed to make these Bulls perennial playoff contenders in the top six at the least. With Ball's future up in the air, we may never see this trio at full strength again. Regarding this play-in game against Toronto, the winner is really irrelevant. If either team makes the playoffs, they'll be out within four games in the first round.