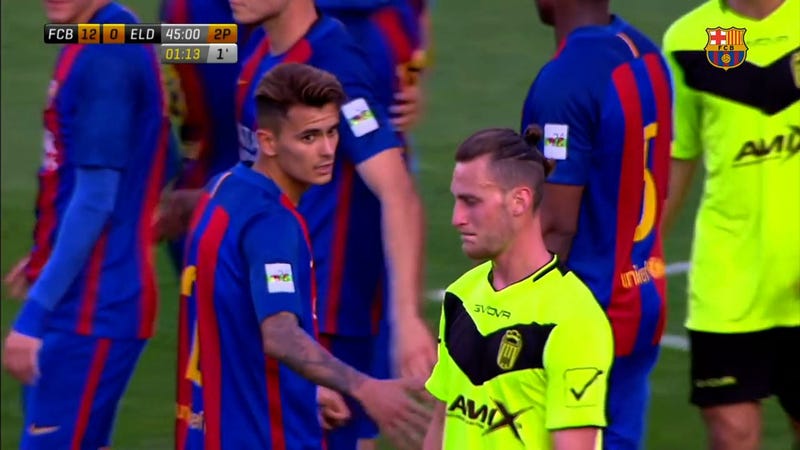 Spanish third division side Eldense lost 12-0 to Barcelona's B team this weekend. Though Barcelona B is at the top of their group table and Eldense the bottom—the loss sealed their relegation—they probably aren't 12 goals better, suggesting an alternative explanation for the thumping loss: match-fixing.

Eldense coach Filippo Vito di Pierro, and general manager Nobile Capuani—who The Guardian reports "represented the group of Italian investors that recently partnered with Eldense"—were taken into custody Monday, after the club's president complained to police, and after they interviewed a number of Eldense players about the match.
Eldense forward Cheikh Saad has been vocal on Twitter, the radio, and in interviews that the match was fixed by four of his teammates, and presumably di Pierro as well. He also claims Eldense's president went into the locker room at halftime to berate the coach, and that he heard a recording specifying that the match be 8-0 at halftime, and 12-0 at the end:
Saad said that he saw the president of Eldense's managing board, David Aguilar, go to the dressing room at half-time with the score 8-0 and argue with the coach.

"He [Aguilar] had words with the coach, calling him a scoundrel because it was evident that something was going on," he said. "I listened to an audio recording that some people showed me after the game and it revealed that certain players had made bets to lose.

"In that recording, it stated that there would be eight goals at half-time and then the result in the second half. The police have that recording.
A Spanish third division match being fixed isn't exactly surprising. So much attention is paid to first division matches that it is hard to get away with, and everybody involved is paid millions of dollars, severely lessening their incentive to fix a match. "We are talking about big amounts [money], they would not have earned that amount in their whole lives playing in this division," Saad said about the perpetrators on the radio.
But 8-0 at halftime, and a final score of 12-0? That's just begging to get caught.
This was likely not the first match involving Eldense that was fixed, with team president David Aguilar especially suspecting a 3-1 loss to Cornella, a match which saw three penalties and an irregular betting pattern.