Harrison Avenue in Leadville, Colo., is as quirky and canted and laid-back as any mountain town main drag. The commerce here is of the kitschy variety you find in ex-boom towns—antique stores, gem shops, ice cream parlors—except for an August weekend every year when the intersection of Harrison and 6th Street becomes something else entirely. This is the finish line for Leadville Trail 100, the largest trail ultramarathon in the United States, and one of the oldest. The steady stream of dirt-crusted runners are evidence of Leadville's newest boom—endurance racing.

But as with many booms, there's tension, a tug-of-war between profit and principle, corporate largess and cowboy independence, growth and authenticity, locals and out-of-towners. Leadville Trail 100 has led the way in the ultra endurance boom, but some wonder if they've gone too far, if they've tapped out the spirit that fueled ultras in the first place.

***
What sets Leadville apart from every one of the 127 North American hundred-mile races listed on the website run100s.com is economics. Leadville 100 was established 32 years ago as a money maker for the struggling town of Leadville. Since 2010 when race founder Ken Chlouber sold the entire Leadville Trail Series to fitness giant Life Time Fitness, the race has expanded its beneficiaries to include that corporate entity.
In stark contrast, most trail ultras are equal parts gnarly endurance challenge and a chance to get with Nature, barechested and howling. They're established and run by locals, part-timers, volunteers and eccentrics who often fulfill more than one of those roles. Challenging oneself in a wild and scenic place is everything; bringing money into the community is rarely part of the mission statement.
From the first Leadville Trail 100 in 1983, the event has been about bringing athletes and their dollars to the community, "and that's still my motivation today," said Chlouber, who retains a financial interest in the race series and serves as a consultant on Life Time's staff.
G/O Media may get a commission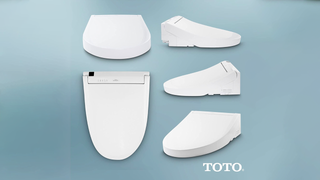 44% off
Toto Washlet Electronic Bidet Toilet Seat
According to run100s.com, Leadville is the most populous trail hundred-miler by a wide margin, Rocky Raccoon in Texas being the next closest at 486, mostly due to federal land-use restrictions. It's almost impossible to design a 100-mile course on trails without using Forest Service, BLM or DNR land. Western States, for example, is limited to 270 entrants because it passes through a federal wilderness area. Hardrock, that runs through the rugged and pristine San Juan Mountains, has a 140-person limit.
"Registration opened January 1, 2014, and it sold out in eight hours," said Ken Chlouber, founder of the Leadville Trail 100 and, as of 2010, emeritus consultant. "That should silence the critics. It was a great race last year. All those accusations are without substance."
He's talking about the 2013 event, when a record 1,200 entries were accepted and 946 runners (up from 788 in 2012 and 612 in 2011) took to the out-and-back course that cuts through what's normally Colorado's high lonesome, beginning and ending in the bucolically named Leadville.
According to first-hand accounts, runners jostled for position on the two-way trail; feelings of camaraderie turned to road/trail rage; foil packets, cups, wrappers, and the occasional clump of well-used toilet paper littered the trail; runners' crews trying to reach checkpoints along the course caused mile-long traffic jams; aid stations ran out of GU, food, and supplies; and volunteers were overwhelmed by crowds of runners seeking their drop bags of fresh clothing.
Having paid $285 to enter, disgruntled runners peppered social media with their complaints. Of the 166 comments to ultrarunning website iRunFar.com's top finisher coverage of Leadville 2013, many went like this:
I agree with the commenters who are saying that this race has jumped the shark. I've been a long-time fan of this race. I've run it, crewed it, and paced it. But the organizers have made some horrific decisions the last few years that impact the quality of the experience in a way that's difficult to ignore or forget.
Criticism came from other endurance races as well. The Hardrock 100 Trail Run, based in Silverton, Colo., issued a notice on their website saying that Leadville 2013 would be removed from Hardrock's list of qualifying races because organizers ignored "environmental responsibility, support of the hosting community, and having a positive impact on the health of our sport."
Josh Colley was not as effusive about the 2013 event as Chlouber was. Colley, also a Leadville resident, has been the race director since Life Time Fitness purchased the Leadville Trail Series from Chlouber in 2010.
"We were not prepared for that many folks," Colley said, readily admitting to problems. "In past years, there's been a 20 percent to 22 percent no-show rate. Last year, it was 6 percent. It got a little hairy. Crews especially had trouble reaching their runners. We take criticism from runners to heart. In fact, we went so far as calling the last 20 or 30 official finishers personally to find out where the problems were."
Because Leadville has no qualifier requirement, it's accessible to trail neophytes, many of whom come from a road-marathoning background. Tossing GU packets, cups, and wrappers on the pavement is standard procedure in road races, and apparently, was carried over by some to Leadville's trail setting last year.
"I get the trash issue," Colley said. "Even though we pick it up immediately after the race, I don't like to hear about it at all. I've included environmental education in the athlete guide and it will be one of my main talking points in the pre-race athlete meeting. Respect for the environment is absolutely a priority."
Colley and company got busy and enacted changes. First and foremost, this year's Leadville Trail 100, held Aug. 16, had fewer than 700 runners on the start line, 250 fewer than in 2013. A professional parking service kept spectator and crew vehicles one and a half miles from the May Queen aid station, so ambulances could get through on the narrow road. Cars parked well outside of the Twin Lakes aid station and shuttles brought runner support crews and spectators to the course. Only cars with crew passes were able to drive up the rough road to the 50-mile turnaround point at the ghost town of Winfield, and even those vehicles parked a quarter-mile from the aid station and support crews walked from there.
According to Trailrunner magazine's Yitka Winn, who helped pace a friend through this year's race, these fixes did the trick for runners, crew, and volunteers. Comments on Leadville's Facebook page were overwhelmingly glowing.
Of all the criticism of the 2013 race, the blow that struck Colley and Chlouber the hardest was the claim that the race didn't support the community. An economic impact study conducted by Colorado Mountain College estimated that the Leadville Race Series, including the 1,800-entrant mountain bike race held the weekend prior to the footrace, brings $15 million annually to the town of 2,600 residents. Of course, economic impact studies are notoriously optimistic, but more tangibly, the Leadville Trail Series foundation supports local schools and nonprofits, and provides $1,000 to each Leadville high school graduate for higher education. These programs were established by Chlouber and carried on by Life Time. Unlike Vail and Aspen, there is no ski resort in Leadville, so the summer season has to keep the town afloat through the winter, Colley pointed out.
"We do more for this town than any other race across the country, from using local catering, search and rescue and fire departments, to runners patronizing hotels, restaurants, rec centers and tourist activities," Colley said. "Whether you consider those visitors overrunning the town or benefiting the town, that's a matter of opinion, but our goal is to bring money into the community, and we have been successful at that."
Ken Chlouber and 3,200 others lost their jobs when Leadville's Climax Mine closed in 1982. When Chlouber, who spent 18 years as a Colorado legislator, decided a 100-mile footrace was the answer to Leadville's economic woes, he visited Western States 100 in California, one of the few ultra trail runs in existence then, to see how they did business.
"Rules, they had so many rules," he said, disgusted. "You had to run a qualifier, there was a lottery, you could get disqualified if someone helped you up after you'd fallen. I took the exact opposite approach. The only rule Merilee [Maupin, race director] and I had was family. We treated everybody as family, and do everything we can to help get them across that finish line under 30 hours. The only rule was 'no rules.'"
To ensure easy access to all who were willing to pony up with the entry fee, he and then-race director Merilee Maupin required no qualifying race, and applied for and received an extremely roomy 850-person permit from the Forest Service for use of the single track, dirt roads, and remote highways that make up the 50-mile out-and-back course.
Dale Garland, Hardrock's race director, said that he and their board of directors worked with the BLM, conducting an exhaustive six-month study, including an environmental assessment and impact on community infrastructure. That's how the BLM arrived at Hardrock's special use permit for 140 runners.
Ken Chlouber said he simply applied for a permit from the Forest Service for 850 people and received it.
"Do you have a problem with that?" he challenged when I asked how Leadville had received such a generous Forest Service special use permit.
When asked if an environmental impact study had been a part of that permitting process, he said that Leadville had been putting on an environmentally sound race for the past 30 years. Of course, it's easier to have a low-impact event with 45 participants, as in 1983, than one with over 900 footprint leavers.
"In the early years I would go out myself and pick up everything," Chlouber said. "Now we have a crew who does that. I make absolutely sure that course is not only clean but better than before the race. We pick up absolutely every piece of trash. It's cleaned up immediately. If we didn't, we wouldn't be getting our Forest Service permit, would we? I live here, have for 50 years. I take good care of my home. I care about the people that live here."
In response to a Freedom of Information Act request, the Forest Service provided documentation of Leadville 100's first application for a special-use permit from 1987, prior to the fifth running of the race, as well as seasonal capacity numbers for each of the seven compartments (FS areas) the race course passes through. In the "statement of need for proposed use," Merilee O'Neal (now Maupin) wrote:
"The original intent of the race was to aid a devastated local economy. This is still much the case. Revenues are from entry fees and sponsors. Entrants pay $100 each. Monies in excess of the race expenses will be used to start next year's race, with the balance being returned to various local civic and professional groups to benefit Leadville/Lake County. In 1986 we purchased a $1,350 video camera for St. Vincent's General Hospital."
O'Neal described probable effects on the population: "Long-term aid to the local economy will come from valuable regional and national publicity detailing the event."
And environmental effects: "As stated, the race will bring several hundred people into the area (these people include runners, crews, spectators, and the press who will be covering the event). There will be no detrimental impact to the environment. The only impact will be visual, this coming from the trail marking. … There will be no impact on the air quality, water quality, current noise levels, land surface or population."
On page 4 of the 1987 application, O'Neal indicated that, yes, the use of the land would conform to Forest Land and Resource Management Plan, but, no, neither an Environmental Assessment nor an Environmental Impact Statement had been prepared. Reasons for the lack of Environmental Assessment or Impact were to be explained in the next field, which was left blank. Apparently, no environmental impact study has ever been conducted.
Leadville Trail 100's 1987 application mentioned "several hundred people" were expected but there was no field on the application to request a specific cap on registration. A 1989 decision letter from the Forest Service indicates the race was granted use of FS land for the 30-hour period that year, but did not mention any restrictions on the number of entrants.
The FS also provided us with a Recreation Capacity Study, done in 1995, along with this explanation of the process:
The Foot Race goes through 7 separate management compartments, (St. Kevin, Hagerman Pass, Lodgepole Flats, Lily Ponds, Hwy. 82, Willis and Clear Creek), of these 7 compartments, all but one had sufficient available commercial capacity to accommodate a foot race of up to 850 people. There were several factors the Leadville District used for determining a cap for participant numbers.

1. Is there available capacity along the race route? Yes

2. Is the race route entirely on System Roads and Trails? Yes

3. Economics and Need in Lake County.

4. Growth of the race over the years.

5. Logistics (what could the event coordinators handle, the town, sheriffs, emergency

services and US Forest Service). This was established in meetings with the Forest

Service, Event Coordinators and EMS Personnel.

6. The Leadville 100 will help with any additional trail maintenance in the Willis Gulch Compartment (Compartment at capacity).
With no qualifying requirement and ample entry spaces, Leadville has become the most accessible ultra, the go-to for first-timers and "buckle listers" (those who finish the 100 miles under the 30-hour cutoff get a mammoth silver belt buckle). It's also one of the most visible of the genre, having been featured on Wide World of Sports in 1985, served as the stage for the U.S. debut of the legendary Tarahumara runners, and mentioned in Christopher McDougall's 2008 book Born To Run.
"When you saw the excitement those first few years generated, we knew more people would want to to do this," Chlouber said. "We didn't worry about numbers. It was a great thing for the community—everybody in town was involved and behind it."
Numbers steadily increased from 45 the first year to about 500 in 2010. That was the year Chlouber decided to sell the 100-miler and the other trail runs and mountain bike races he'd founded and managed to publicly owned Life Time Fitness.
"I just wanted to do other things. I want to climb Mount Everest," he said. "Life Time had been a sponsor and we'd developed a close family relationship with Bahram Akradi [Life Time's CEO]. I wanted to hand it over to someone who would carry on and operate in the same family way we had. And people need to understand, I'm not gone! I still have an active part."
Different right from the get-go, the sale of the well-established, firmly branded "family" race to a massive, profit-conscious business further separated Leadville from the grassroots ultra community.
One of those grassroots ultra dudes was Garett Graubins, former editor at Trailrunner magazine and five-time Leadville 100 finisher. He first ran Leadville in 1998, an experience he says changed his life. He signed up a month before the August race that had about 400 starters. He remembered a peaceful, serene, and breathtakingly scenic run—a friend, the mountains and lakes his only companions.
"Fast forward to 2012," Graubins said. "Coming into Winfield I constantly had to move off to the side to let other runners pass. When I looked down into Winfield, I thought, Oh my god, it looks like the parking lot of Mile High Stadium before a Broncos game. The cars and dust and lights—it was a carnival atmosphere. Surreal."
While it was exciting to see so many people and get high-fives from the cheering crowd, he was anxious about whether or not he'd be able to find his crew and soon realized the crowds were more a symptom of chaos than support. Graubins found the contrast in experience jarring—from 400 fellow runners in 1998 to 788 in 2012.
"I genuinely love Leadville—it helped me be who I am today," said Graubins. "And I have nothing but admiration for Ken and Merilee. I'm weighing my words carefully here because I don't want to talk badly about the race, but in all honesty, I'm on the fence about whether this is a permanent change or simply growing pains. There's a business side to this …"
Of course, there's a business side to this—it's Leadville. First Chlouber and now Colley make no secret of the fact that the race is a business, and from a business standpoint, "growing the race is always the goal, after you've met athlete expectations," said Colley. "There is something about 800 people at the start line as opposed to 200; there's this energy. Plus, you're not doing anything for the local economy with 200 people. We're always trying to be the biggest, but also trying to keep a personal touch. Our ultimate goal is to see people come back year after year."
Most Leadville businesses are happy for the flood of runners and their pocketbooks. Said one store manager: "I think it's great. It drives the economy, brings people up here, and it's good advertising for the state of Colorado—it's beautiful up here. I know, there is a down side. People don't always obey the rules and sometimes litter, which is too bad. But overall, I think it's a great economic boost to the community."
One business owner, Dave Wright, of the Golden Burro Cafe, does not share that enthusiasm. Though Wright did not return my calls, he's been very critical of the "bunch of spandex" hordes who, he says, toss trash, park everywhere, and care only about how fast they can get from point A to point B. Since 2011, he has shuttered the Golden Burro the weekend of the mountain bike race and in 2013, also closed the following weekend during the foot race.
Leadville residents, cognizant of the economic support the race series affords, have adopted a grin-and-bear-it attitude. "We just don't go into town in July and August, it's such a zoo," said one homeowner.
There's been a greater than 20 percent increase in entries each of the three years since Life Time has owned the race. Colley said increasing numbers was not a specific goal but rather a side effect of more efficient marketing.
"Ken didn't have the means to market the way Life Time does," he said. "With social media, one click and you've reached 10,000 or 20,000 people. The challenge is getting the correct number and keeping athletes happy at the same time."
Colley also has to keep the Forest Service happy. He didn't know how exactly the Forest Service arrived at the special permit allowance of 850 runners, nor the 2,000 mountain bikers allowed by Forest Service permit the weekend before the trail race. The generous permit, he speculated, may have something to do with the fact that the course is not all single track, but includes some dirt roads and paved highways. To his knowledge, the Forest Service has not conducted an environmental impact study but did factor in the economic benefit to the community when calculating the permit allowance. Leadville's five-year FS permit is due for renewal in 2015. Colley said the race did not have to pay a penalty for exceeding the permit allowance in 2013, but was quick to add that mistake will not be repeated.
"I don't want to get crossways with those guys," he said of the Forest Service.
Going forward, Garett Graubins thinks accurate communication about what to expect will help ensure happy trailrunners.
"Leadville occupies this Boston/NYC Marathon status and there will always be people who want that experience," he said. "It's a big bucket-list event. If you go into it knowing that, then Leadville is your race."
At $285, Leadville is already one of the most expensive 100-mile races but Graubins said he has spoken with Leadville veterans who would be willing to pay considerably more than that if the race limited its numbers to about 500, "to get that old-fashioned serene Leadville experience."
There is at least one hundred-mile trail race that has juggled huge numbers of runners, environmental responsibility, community relations, and profit-seeking sponsors—France's Ultra-Trail du Mont-Blanc. About 2,500 runners and easily triple that number of crews, volunteers, and spectators flood the three-country region surrounding Mont Blanc. In contrast to Leadville, UTMB is a semi-self-supported event—runners are responsible for carrying most of their supplies with them throughout the race—and the course is accessible by a number of roads and small towns enroute. Even UTMB though, often held up as a model of management, has seen some recent controversy over conflict of interest by race directors.
According to Colley, this year's Leadville race reached the 700-entrant cap this past January in 30 hours, not the eight Chlouber reported, which is still quick. He'd like to think this was a vote of confidence by runners that 2013 was an anomaly and that the Leadville magic would be restored this year. Whether or not they'll be running, many in the ultra community, including Graubins, will be watching Leadville as a pioneer in the evolution of the sport.
"Despite all the improvements and changes at Leadville, there will always be purists and veterans who pooh-pooh the experience," said Graubins. "But if you don't like it, there are some other amazing options out there."
Colley agreed, noting that the surge in popularity that fueled Leadville's unprecedented expansion has also spread horizontally, spawning many new ultras around the country, each with a different vibe and different features. "It's awesome that people have so much choice."
photo credit: Leadville Today