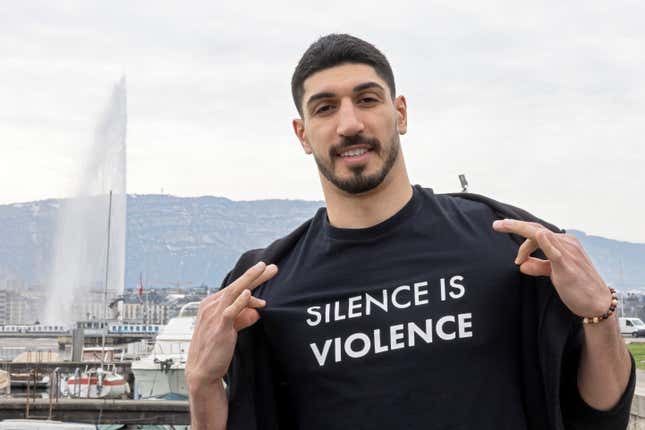 In the wake of Herschel Walker losing in Georgia's December runoff with Democratic U.S. Sen. Raphael Warnock, the Republican Party didn't just suffer a crushing defeat —they missed out on having an athlete in politics that could garner attention. But never fear, Enes Kanter Freedom is here. And it feels like the former NBA "star" is trying to pick up where Walker left off.
Jackson Mahomes gives Antonio Brown a run for his money | Worst of the Week
"I am actually in touch with so many of my friends in Congress, and they're like 'What are you waiting for? We need your voice," he claimed on a recent segment of FOX News where he suggested that President Biden can "barely walk, and barely talk."

(Deep elongated sigh.)
In case you forgot, Kanter Freedom got run out of the league for his inability to consistently finish around the rim, and his lack of lateral quickness which made him terrible in pick-and-roll defense. He also did and said a lot of things that pissed people off.
"Money over morals for the 'King," Kanter wrote in a tweet directed at LeBron James. "Sad and disgusting how these athletes pretend they care about social justice," he added. "They really do shut up and dribble when Big Boss (China) says so. Did you educate yourself about the slave labor that made your shoes or is that not part of your research?"
But, when the Lakers came to town to face the Celtics — Kanter Freedom punked out and had no energy when James was right next to him.

And then there was that time when Kanter Freedom got on CNN to call out Michael Jordan for not "doing anything for the Black community." For the record, Black people hate when non-Black people talk about Black matters as if they're Black.
"I feel like we need to call out these athletes," he said. "At least LeBron James is going out there and being the voice of all those people who are oppressed in America. Michael Jordan has not done anything for the Black community because he cares too much about his shoe sales all over the world and America, and I feel like we need to call out these athletes, and not be scared about who they are."

Over the past few years, Kanter Freedom has morphed from a fearless man that was speaking out against the injustices in his country and the ones that happen around the world, into a puppet for anyone on FOX News who will enable him and give him a microphone and camera to spew ignorant, and un-factual things — which tracks with everything that network stands for.
Last month, we learned that Walker had more than $4.3 million in cash after losing his race, as he's spending some of it giving kickbacks to his friends and supporters.
So, don't be surprised if Enes Kanter Freedom dabbles in politics soon. And when he loses, don't be surprised when you find out that it was nothing but a money grab.