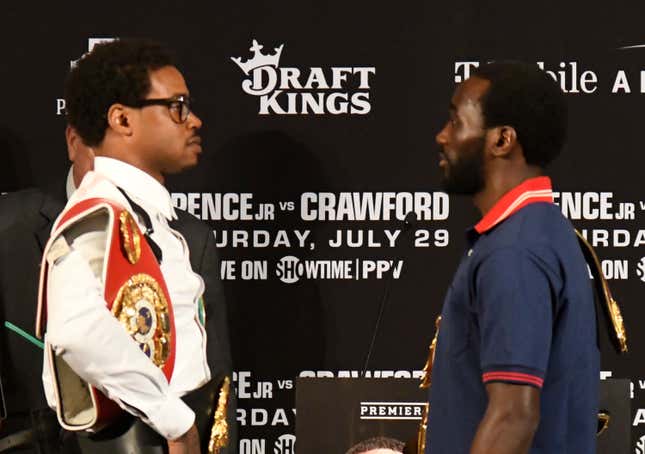 There is not a lot of room in the news cycle at the moment. Much of it is being swallowed up by Donald Trump being arraigned for allegedly turning Mar-A-Lago into a Hoarders episode using classified documents. (He pleaded not guilty on Tuesday.) In sports, the LIV-PGA merger is being investigated by the Senate, and the NBA still has not announced Ja Morant's punishment. That's more than enough to chew on from the current events buffet. So much in fact, that it's easy to forget that the biggest boxing match in eight years is only six weeks away — Errol Spence Jr. vs. Terence Crawford.
After years of Bob Arum and other issues getting in the way, the fight that the world has been waiting for was supposed to take place in November. Unfortunately, some last-minute money issues proved to be another roadblock and boxing did what it does best — take a circuitous route possible to an inevitable destination.

Then in late May, the date was finally set — July 29 in Las Vegas. The undisputed welterweight championship will be on the line as well as the subjective title of best pound-for-pound boxer in the world.

Fighters meet during West Coast promo tour
Errol Spence Terence Crawford stare each other down
The fight is on a two-day promotional tour that will hit both coasts. Spence and Crawford will be in New York on Wednesday, and spent Tuesday in Southern California. A little weekday morning brunch began the festivities at The Beverly Hills Hotel, and then the reality of the superfight appeared in the flesh. The two fighters each walked down the carpet accompanied by music— an excellent choice by Spence with BigXThaPlug — and they finally stared each other down.

In front of that step and repeat with their names on it, standing face to face, 2023 Sugar Ray Leonard vs. Tommy Hearns has arrived. But if a tree falls in Beverly Hills, did it happen if it didn't become a trending topic on social media?

Tuesday was the kickoff event for one of the biggest sporting events of the year. The number of A-listers in the crowd at T-Mobile Arena next month will be a Los Angeles Lakers playoff game on Super Mario mushrooms. Yet, after a long scroll down the sports tab on Google News, I saw nothing about the fight. ESPN has a bit more of an excuse since it isn't airing the pay-per-view event, but nothing on the homepage, and one retweet on its main handle from its boxing handle is light.

Crawford and Spence did themselves no favors by announcing they had come to an agreement two months before fight night, with only a set of back-to-back press conferences. Also, the tone on Tuesday was braggadocious at points, but certainly nowhere near contentious. Maybe Spence should throw a pancake at Crawford in New York on Wednesday.

July is the most tumbleweed-littered month on the sports calendar. The ESPY Awards are literally held that month on a day when literally no live sporting events are televised in America. I believe the anticipation will grow significantly once June is over, but these two days are the only time the fighters will appear next to each other until they weigh in.

There is a lot going on in the world, but we usually make time for generational fights. And for this one, we didn't have to wait until after one of the combatants had already been knocked out meme-style. Both Spence and Crawford are undefeated and won their most recent fights by stoppage. There was even a great warmup bout to get the sports world thinking boxing with Gervonta "Tank" Davis' resounding gut punch victory against Ryan Davis in April.
A whole superfight is on the way. It deserves its space in the news stream even with Trump and LIV dominating the headlines. It doesn't have to be in the first slot on the homepage, but it most certainly deserves to be mentioned.