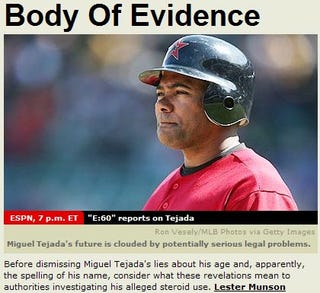 Tonight at 7 p.m. ET, ESPN's E:60 unleashes its orchestrated ambush of Miguel Tejada in all of its uncomfortable, Schapp'd-up glory. They couldn't sit on the story long enough because, well, a 33-year-old man posing as a 31-year-old is something that needs to be revealed as soon as possible so that the public can no longer be hoodwinked by this bastard Dominican shortstop charlatan. And, also, it's Tejeda, you fools. Don't you feel silly? The authors of Miggy's Wikipedia page were justifiably irate.
Chris Mottram, the younger, more virile half of the Mottram blog Hydra unloads on the Lester Munson article that accompanies the E:60 promo on ESPN.com:
Middle aged women beware: Lying about your age is the gateway lie to lying about much more harmful things. Like drug abuse.
So, remember, set your Tivo's if you want to watch this Tejada — sorry, Tejeda guy squirm like the lawless vermin he is. Plus, it's also fun to watch that gripping E:60 roundtable, as ESPN's elite muckraking corps vet each story like it's Watergate: THE MAN IS NOT USING HIS GOD GIVEN FEET TO WIN RACES...
Tonight, We Finally Find Out Tejada's Real Age! [The Sporting Blog]