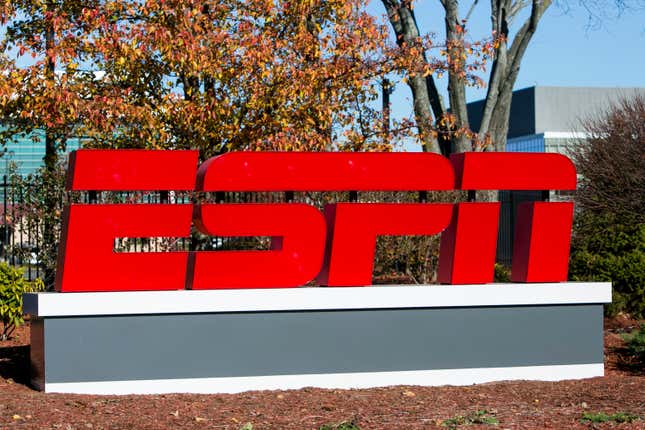 Hard economic times have come for ESPN and its parent company — Disney. Like many companies, Disney is doing some downsizing. There have been rumors for a while and returning CEO Bob Iger dropped the hammer when he sent out a memo in which he states that the company is beginning the process of laying off 7,000 of its 220,000 worldwide employees.

This downsize will be Disney's biggest since the height of the COVID-19 pandemic. The company laid off 32,000 workers. That was mostly from Disney's parks, experiences, and products division. The upcoming one will likely hit ESPN hard. The New York Post's Andrew Marchand is reporting that there are "no sacred cows," in this upcoming round of downsizing that the worldwide leader in sports will finalize sometime within the next six weeks.
With the Diamond Sports Group filing for bankruptcy, Warner Bros. Discovery' AT&T Sports Networks informed its MLB teams that it won't be able to make the upcoming rights fee payments, and ESPN is discussing adding a feature to its app that can link viewers to games being broadcast by other networks and streaming services.
It's a brave new world out there for sports television. No longer can networks sit back and rake in their take from every cable television subscriber in America while the service provider increases its customer's monthly charge by $10 every year. These television networks are going to have to get creative in this new world of television in which people can pay for what they want to watch instead of for an expensive service that provides them hundreds of channels, most of which they never view.
No network has benefited from this more than ESPN, but now that the cable bubble has exploded, the network now has to cast a net out into the atmosphere to try and secure the remnants. For the last 10 years that bubble burst has resulted in many great workers either electing to leave ESPN or being shown the door. That sprawling Briston, Conn., campus and that studio at the Seaport in New York are going to have fewer people mulling around in the coming months, and not because more staff are electing to work from home.
Many people have their gripes with ESPN. Just last week, Aaron Hernandez's brother, Dennis "D.J." Hernandez, threw a brick at the network's Bristol headquarters. Some believe that the talking heads do too much screaming and not enough explaining. Others may throw a "woke," accusation at the company for its desire to not have only white men presenting a diverse world of athletic competitors.
I have complaints as well. I wish that ESPN would have more fun with its broadcasts. Highly Questionable was an outstanding show. The NFL Live and NBA Today crews both bring levity while also being informative. More of that needs to be brought to the pregame and halftime shows. There is no way to recreate TNT's Inside the NBA, but to instead have Mike Greenberg and Stephen A. Smith at the desk shows a lack of creativity.
Still, for all of its flaws, ESPN has done largely incredible work. It has several outstanding podcasts, Pardon the Interruption shifted the tectonic plates of sports television, the 30 for 30 series has produced some of the best sports documentaries ever made, and when the investigation team is at its best few in the world can compare.
Great people have come through ESPN, some of whom I know personally. It's always sad when they are forced to scramble after being at what is considered the pinnacle of sports media. Now even more are going to have to figure out on the fly how to stay in this industry since America's solution to the burden of inflation on its workers is for there to be fewer of them.

Downsizing is beating up Americans in all industries lately. ESPN is simply another giant to get hit between the eyes by the rock of an unstable economy.