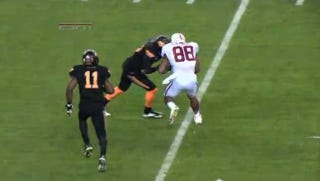 The Worldwide Leader did away with its "Jacked Up!" segment some time ago, but it's still not above marveling at and even promoting footage of a good old-fashioned helmet-to-helmet blast, as this tweet to its 2.4 million followers clearly indicates.
Um, BOOM?!? In case you missed the HIT of the night last night, here you go -> http://bit.ly/viIpLh #FiestaBowl
The video is below. The play happens in a split-second and looks like a solid open-field tackle by Oklahoma State's Markelle Martin on Stanford's Ty Montgomery. But the slow-motion replay, at the 32-second mark, makes clear what is not obvious in real-time: Martin dips his head, and the crown of his helmet connects first with the side of Montgomery's helmet. The actual contact here appears to be less deliberate than it was incidental, but it's still the sort of shot over which the networks pretended to develop a conscience not so long ago. Upon seeing that replay, the announcers pause, after which play-by-play man Sean McDonough says, "That looks helmet-to-helmet to me." To which analyst Matt Millen replies, "Yeah. I like it." So does ESPN, apparently. "Um, BOOM?!?" is the new "Jacked up!"