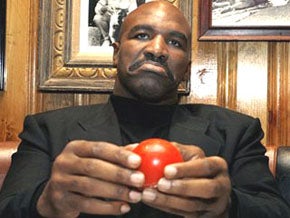 So Evander Holyfield is broke. His $10 million house (featuring 17 bathrooms and a bowling alley) is in foreclosure, he's behind in child support payments, and things are generally looking bleak. And people, it's your fault. You just aren't buying enough Real Deal Grills! Why not? Dual temperature controls, 1800 watts of power, adjustable floating hinges so you can cook on two sides at once ... it's like having an entire restaurant in your house! I have no idea how a man with his own grill could be so in arrears. I'll never understand boxing.
A legal notice that ran Wednesday in a small local newspaper said Holyfield's estate will be auctioned off "at public outcry to the highest bidder for cash" at the Fayette County courthouse on July 1. The 54,000-square-foot home — located on Evander Holyfield Highway — has 109 rooms, including 17 bathrooms, three kitchens and a bowling alley. Meanwhile, Holyfield's handlers allegedly told the mother of one of his children that he will no longer be able to make his $3,000-a-month support payment. Toi Irvin claims the boxer has already missed two payments, so she has gone to court seeking restitution.
What is it about being a great boxer that automatically makes you bad with money? Here's one problem Joe Louis never had, however: On top of all his other woes, Holyfield reportedly owes $500,000 for landscaping.
Why do mansion owners who are facing foreclosure never take my advice? One word, fellas: Roommates.
For real: Holyfield Must Deal With Being Broke [NBC Sports]
Evander Holyfield's Real Deal Grill