Miami Marlins CEO Derek Jeter apparently feels he can show his face in public again, opening up to Jerry Crasnick for an ESPN feature on the future of the team, and boy, was the author willing to make him comfortable.
The goal of Crasnick's article is to show that Yankees great Derek Jeter is learning how to run a team, and he's trying his hardest not to fuck up. He already shipped out practically all of the Marlins' good players for seemingly unimpressive returns, so this explanation is a bit tardy. But maybe this anecdote will convince the reader that Jeter cares about even the smallest details. It doesn't top Colts executive Ryan Grigson's hunt for the perfect coffee mug in terms of uselessness, but it's close:
Jeter embodied the phrase, "Control what you can control." But nothing could prepare him for his first game as an owner, and the helplessness of waiting for DJ Khaled to finish his 30-minute set in time for Jose Urena's scheduled first pitch of the 2018 season opener.

The Marlins were hosting the Cubs on March 29, and as game time approached for the 12:40 p.m. ET ESPN broadcast and DJ Khaled wrapped up his new team song, "Just Gettin' Started," Jeter kept checking his watch and calculating the logistics. That stress-inducing moment provided a window into the challenges awaiting Miami's new baseball messiah.

"It's funny," Jeter says. "I never thought I would be sitting in the stands worried about whether or not our stage would be taken down prior to the first pitch. Those are the little things you never really take into consideration when you're a player."
Logistics are crazy. There are a bunch of these Jeets deets throughout the feature—He's cut back on nervously eating chicken tenders! That big dispenser of hand sanitizer actually belonged to former team president David Samson! The team's giving budgeting lessons to its minor leaguers (no mention of livable wages, though)!—but what can't be found is an actual explanation for why he traded one of the league's best sluggers, who is in his prime and under team control for at least three more years, in exchange for two underwhelming prospects and Starlin Castro, then didn't want to talk about it at the major-league event where people talk about stuff like that.
This winter the Marlins traded Giancarlo Stanton, Dee Gordon, and Marcell Ozuna, then pissed off Christian Yelich and J.T. Realmuto but only could trade Yelich. This team is currently worse than the Mets in the NL East standings. The only reason they're not getting more attention for deliberately phoning it in is because the Orioles exist. Average attendance is four figures. Jeter wants fans to be patient though, and his excuse is that the apple was rotten to the core:
"The bottom line — and I can't reiterate this enough — is that we took over an organization that was broken," he says. "They hadn't been to a postseason in 14 years or had a winning record since 2009. That's black and white. If we came in and didn't make any changes, people would think we were crazy.

"It's a complicated history here with the fan base. We want them to trust us. But we have to earn that trust, and it takes time. The response we've gotten from people we've met with has been overwhelmingly positive. There's been a negative narrative out there as well, but here in Miami, we don't hear it."
G/O Media may get a commission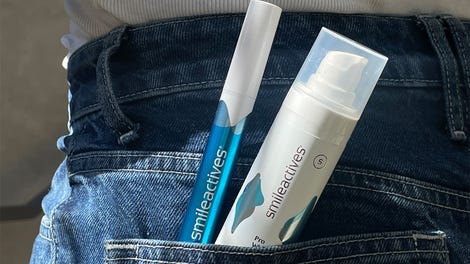 58% off
Whitening Powerhouse Pen & Gel Duo
You don't hear it because no one's at your fucking games. A rebuild isn't the issue, but there's nothing to rebuild around. Trading away and alienating a bunch of very good players and getting nothing interesting in return is demoralizing. There's nothing to watch. Marlins fans have nothing to be excited for. Even Marlins Man has turned against the team. In this ESPN puff piece, Jeter skates by on providing a fulfilling answer as to why the team dramatically cut its payroll. The closest he gets is, I'm learning, trust me.
The funniest part of the feature is the sitdown meeting Jeter held with shortstops Miguel Rojas and J.T. Riddle so that he could convince Rojas, the lesser fielder of the two, to move to third (let's hope Rojas doesn't know anything about Jeter's career). The most revealing part is when Jeter's asked about whether the Marlins are really going to get rid of the ostentatious home run sculpture, which he very clearly detests. His response does a good job of summarizing the first 10 months of the Derek Jeter Marlins: "We'll see what the plan is. We will let you know if there's any plan."
[ESPN]
H/t to @genomeknows