Today Apple announced a new streaming music service, dubbed Apple Music, with a little help from Drake. It may be a new venture for Apple, but don't be duped: it's the same as all the other streaming services out there now.
Here's the deal with Apple Music: you get streaming access to the entire iTunes library for 10 bucks a month. There's also a $15/month family plan that is accessible to up to six users, but it's not entirely clear what kinds of limits will be placed on that for each user. (And it's safe to assume that there will be limits.) Apple will make a big fuss over the interface, a big collection of curated playlists, and a 24-hour radio station, but the long and the short of it is same streaming shit, different interface. There's not a free, ad-supported option either.
Spotify's $10/month. So's Rdio. So's Tidal. They all have their respective selling points. Tidal has exclusive video? Yeah well so does Spotify. iTunes has podcasts? Well, those are on Rdio and Spotify, too. iTunes Music has Drake? Tidal's got Jay Z. Tidal's 10 bucks a month? They're all 10 bucks a month. And that's because they're all the same. Each service offers some kind of exclusive something that basically evens out in the end. Although, nana-nana boo-boo, iTunes is the only one with Taylor Swift. It does not, however, have Garth Brooks because Garth Brooks does not believe in streaming music or the internet. Garth Brooks shows no signs of adding his music to iTunes in this decade.
So, yes, the Apple Music thing is an unproven model until you see it in action when it launches June 30. But hey, they did bring out Drake as the ol' "One More Thing" routine. (RIP Steve Jobs, you're an angel!) And even old hag Trent Reznor showed up to approve of Apple Music. Apple didn't undercut its competitors' prices either because it's Apple and Tim Cook could fart in a jar designed by Jony Ive with a capacitive touch lid and 10 million people would buy it for $400, and that would be the first-gen model.
G/O Media may get a commission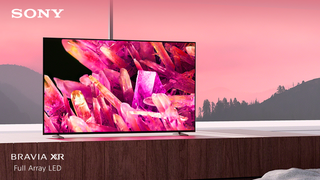 $400 off
Sony 55 Inch 4K Ultra HD TV X90K Series
In any case, what streaming service should you use? Easy. Go where your friends are. If your friends are on Spotify, go to Spotify. If they use Rdio, use Rdio. And so forth! Those are the people whose listening habits and musical tastes matter to you anyway. Who cares about a playlist curated by some Apple exec. It's gonna be all Mumford & Sons anyway. People get very up in arms over an Apple announcement, but resist that twitch in your gut prompting you toward some big life change. Stay where you are. No streaming service is going to give you anything that different than the other. As you were.