Online wankers, your day has come: The long-awaited photo shoot pictures of FSU Cowgirl Jenn Sterger have finally been posted on Maxim's Web site. The photos are as understated and subtle as you would have expected from a Sports Illustrated columnist; the "outfits" consist mostly of dental floss and baling wire.
We sheepishly note that we are somewhat responsible for Sterger's appearance in the magazine; our good friend and fellow Black Table creator Eric Gillin is an editor at Maxim, and he first discovered her on our site. And ultimately, he ended up "supervising" the photo shoot. He took some time from his busy day of inspecting side boobs to answer a few of our questions over IM.
Deadspin: So you were there for the photo shoot. Do you always go to the model photo shoots, or did you just decide to go to this one?

Eric Gillin: I try to get out of the office to see the shoots when I can — usually they're all held in L.A. so I can't — but this time around I found time in my busy schedule to, you know, attend.
Deadspin: Had you talked to her beforehand? Did she drop all kinds of Florida State football knowledge on you? She is, after all, a national sports columnist. In fact, she even claimed in an interview that she "schooled" you on sports.

Eric Gillin:I'd talked to Jen a lot beforehand, just setting up the shoot, making sure everyone was all ready to go and all that. I don't really remember her "schooling" me on sports. I mean, as you're well aware, it's entirely possible that she did and I just chalked it up to another person correcting me yet again. The only time I remember her correcting me was when I got the names of the teams who were playing wrong at the game she was filmed at. I may have said FSU vs. Florida instead of FSU vs. Miami.
G/O Media may get a commission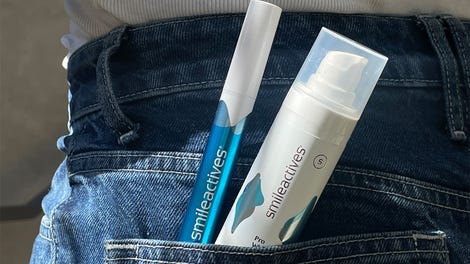 58% off
Whitening Powerhouse Pen & Gel Duo
Deadspin: And are you guys still pals? You're best buds, aren't you?

Eric Gillin: Yeah, actually, we have kept in touch since the photo story. I know a lot of people like to rip on Jenn, but she's a sweet girl.
Deadspin: You really were there for the entire shoot? Like, the whole thing?

Eric Gillin: I was there for the beginning of the shoot, but then I must have blacked out for a while. Actually, I had to run home to grab my recorder. Then I came back and they were still shooting — the scenes in the showers with the three of them. I think I need a raise. This job is grueling some days.
FSU Cowgirls Photos [Maxim]