Mark One Wolf, who sure looks like just another bogus Indian propped up by Dan Snyder, has added one more native-sounding name to his already massive ID stable.
That came out during a Twitter war between One Wolf (real name Mark Yancey) with Mike Wise yesterday, in which the Washington Post reporter tried to bet his foe $1,000 that he had more Indian in him, and offered to pay for the DNA test himself.
But as the banter between the keyboard combatants heated up, Wise threatened to expose a new family source who will say Mark One Wolf ain't really Indian. Others chimed in to help Wise pummel poor One Wolf as a Pretendian.
Then out of nowhere, in swooped "Jimmy War Eagle," who uses the @RedskinsUnity tag on Twitter, to give One Wolf some backup.
"How Insulting and RACIST of you all" said War Eagle to the One Wolf pummelers.
G/O Media may get a commission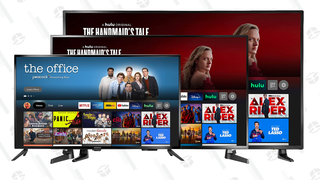 Up to 44% off
Prime Early Access - Insignia Fire TVs
Unfortunately for One Wolf and War Eagle, Indian activists don't like non-Indians speaking for actual natives.Turns out lots of real Indians have been looking into Yancey's background ever since he became a leader of Snyder's save-the-name movement by founding a pro-name outfit called Native American Redskins Fans.
They say they couldn't find a single Indian branch on Yancey's family tree. But, along with One Wolf and Yancey, at various times they learned that the pro-namer has also called himself "Mark Suzuki," "Mark Yan," "Kram Yecnay," "Mark Yazzie," and "Dalaa Ba'Cho." He's also indicated his tribal roots are at times Cherokee, at other times Shinnecock, Chiricahua Apache, Mexica, Navajo, and, in a 2007 court record, "Native American/Alaskan."
So when "Jimmy War Eagle" joined the Twitter fray on Yancey's side, folks were ready for him. Toby Vanlandingham, an anti-namer from the Yurok Reservation in California, broke in with some intelligence he'd gathered during his Yancey reconnaissance: "@RedskinsUnity is Mark's other account," he said.
Vanlandingham then produced a screenshot from August from a now-dead Facebook page that showed Yancey, then going by "Mark OneWolf Yazzie," posting his twitter ID as "@RedskinsUnity."
"He's like the Leonardo DiCaprio character in catch me if you can," says Wise via email. Wise says he's still willing to pay Wolf/Yancey/War Eagle et al. $1,000 to take that DNA test. None of them have taken Wise up on his offer.