There are three main founts of greasy innovation whence spring the majority of new fast-food items. The bulk originate in the wide and shallow Same Shit, Different Condiments pool; they are joined by more ambitious offerings from the genres of Cynical Stunt Food and Honest-to-Ronald Attempts to Introduce Nice New Things. Wendy's and Subway have both rolled out brave new sandwiches from the latter category, which is grounds for investigation and comparison and hell, who knows, maybe even hope.
Wendy's Pretzel Bacon Cheeseburger
It would be neat if this were a burger battered in pretzel dust and then fried into a delicious beef fritter. Instead, we get a griddled burger that's heavily dressed and served on a pretzel bun. I would prefer the beef fritter idea semi-implied by the name, but reality sounds promising, too. The pretzel bun would be sexy enough on its own, but Wendy's has thrown caution and liquid cheese to the wind with the addition of honey-mustard sauce, applewood-smoked bacon, and melted cheddar.
The Pretzel Bacon is built around the poorly punctuated and lewdly named Dave's Hot 'N Juicy, which has become the industry's preeminent quarter-pound burger since its 2011 debut. Wendy's franchises are free to set their own prices, and the closest one to Fenway Park charged me $5.49 for a single (doubles and triples are also available, but come on, it's only lunchtime, you've got at least another five hours in those pants).
The pretzel bun is very attractive, with a deep brown color and a dramatically domed peak that makes the burger seem smaller than it really is; the bun is a healthy 3.75 inches in diameter, and the meat goes essentially coast to coast. It's also more than three inches tall, which makes a man wonder how much mouth you need to negotiate the triple.
G/O Media may get a commission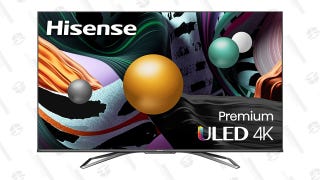 Save $350
Hisense ULED 65" Android 4K HDR Smart TV
Beneath the top, I found two thick rings of red onion; three slices of worthless fast-food shitmato; a nice patch of greens featuring, I figure, probably arugula and some other stuff, including one leaf that looked to be intentionally purple (tasted lettuce-y); three fat Band-Aids of super-smoky, slightly flabby bacon; an overly generous splort of 7-Eleven nacho-station-quality cheez, and the "sweet and smoky" honey mustard, which was just regular sugar-mustard with intermittent dapples of lying-ass red dust that were meant to imply heat (or at least a vague culinary verve), but were probably paprika, which is useless in any dosage below 999,999 parts per million. The slab of fast-food cheese beneath the cheddar sauce neither helped nor harmed.
The bun was very good. It really does taste like a high-end rendition of the standard ballpark soft pretzel you love even though you know deep down that it kinda sucks. The Wendy's bun was fresh and yeasty and demonstrably pretzelian, though it could have used some salt, ideally in the form of ostentatious crystals studding the top, and if that's too wild then at least hidden inside.
The Pretzel Bacon Cheeseburger is a success, though it comes in a notch below true greatness because there are too damn many ingredients. The honey mustard and wet cheese slosh into each other to form a messy supergloop that threatens to dominate the rest of a burger that would be better off without one or even both of them. Flavor-wise, they are kept in check by the assertive bacon, but they still wreak textural havoc and distract from the beef and bun. In an attempt to make a splash and justify a high price, Wendy's overdid this one. I'd like to try the pretzel bun with a stock H 'N J tricked out with nothing more than bacon, onion, and regular cheese.
Subway Applewood Pulled Pork
Oh boy, do people turn into didactic dickheads when it's time to talk about barbecue. There are enough regional and stylistic and completely fictional distinctions to keep us pissing at each other for the rest of our days, but let's set all that aside for the moment and just consider the fanciful notion of Subway attempting pulled pork. A clean and efficient chain built on the stench of their bread and the strength of their condiment bar—whose motto might as well be "Sure, Fuck It, We Can Microwave That!"—is now offering one of America's slowest, dirtiest, and most contentious foodstuffs. Good luck, Subway.
It turns out that six inches of Subway Applewood Pulled Pork makes for a stunningly acceptable $4.75 meal. I know what you're thinking: "What does 'stunningly acceptable' mean, you adverb-humping weasel?" It means this is decent food, and that fact stuns me. Subway somehow manages to cheat a hint of legitimate slow-cooked character into the pork before slathering it in a ho-hum sauce derivative of the sweet, ketchup-y Kansas City school. The meat's texture is ideal, tender but not to the point of mushiness, with a few isolated bits of unintentional but pleasant char from the reheating process.
The Subway website recommends enhancing your pork with "red onions, tangy pickles, or whatever you like." I took mine straight, the better to study the pork's true nature, but the flavor is assertive enough to stand up to most of the vegetables in the Subway arsenal. BBQ purists don't like to get too fancy with their sandwiches, but they also don't eat Subway pulled pork, the way you and I and our handsome and reasonable friends do. Let's throw some hot peppers on there next time!
The Winner
I really want to give this one to Subway, because their Applewood Pulled Pork exceeded my expectations, whereas the Wendy's Pretzel Bacon Cheeseburger merely met them. The big story here is that Subway can churn out respectable pulled pork, but the other story is that Wendy's Pretzel Bacon Cheeseburger is the objectively superior sandwich, if just barely.
Will Gordon loves life and tolerates dissent. He lives in Cambridge, Mass., and has visited all of the other New England states, including, come to think of it, Vermont. Find him on Twitter@WillGordonAgain.
Art by Sam Woolley.
The Concourse is Deadspin's home for culture/food/whatever coverage. Follow us on Twitter:@DSconcourse.