When the wining World Cup bids were announced last year, it was hard not to wrinkle a Corrugator supercilii muscle. Russia had beat out luckless England for the 2018 World Cup. Even weirder was that Qatar had triumphed over the mighty USA for 2022. Now a squad of FBI agents attached to the "Eurasian organized crime" unit is looking into allegations that some people—ostensibly connected to the Russian bid—tried to hack the email accounts of the English and American bid teams. The United States was originally going after the 2018 tournament and would have been in competition with Russia, which has denied any mischief-making. FBI investigators recently questioned members of England's bid team about the hacking.
Related and equally weird is that in 2010 and 2011 several FIFA officials were dismissed, suspended, or investigated for taking and offering bribes related to both the World Cup bidding process and the FIFA presidential elections. If you recall, soccer dictator Sepp Blatter suspended his only opponent in the FIFA presidential election, Mohammed Bin Hammam, over bribery charges a few days before the election, meaning Blatter's was the only name on the ballot in June. (Blatter later reached out to a war criminal for advice on how to clean-up FIFA.)
According to The Telegraph, the FBI also wants info about potential treachery in the run-up to Blatter's election:
The FBI's interest in the World Cup election is thought to be linked to an ongoing investigation into payments made to Chuck Blazer, the Fifa executive committee member who first revealed the bribery allegations against Bin Hammam and [former FIFA VP Jack] Warner.

In his role as general secretary of the Concacaf confederation Blazer received commission payments from Concacaf accounts totalling more than $500,000 (£320,000), some of which were linked to television contracts.
Some of the money was paid into an account in the Cayman Islands, with the most recent payment of $250,000 (£160,000) made in March this year and paid into an account in the Bahamas.
G/O Media may get a commission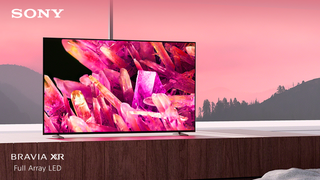 $400 off
Sony 55 Inch 4K Ultra HD TV X90K Series
A quick recap: Blazer took down Bin Hammam, was hailed as a hero, was soon investigated by intrepid British journalist Andrew Jennings who exposed Blazer as yet another FIFA heavy, thereby triggering an FBI investigation into Blazer that has expanded to include computer hacking during the World Cup bidding process and may encompass other wrongdoing.
What's sad is that law enforcement in Europe seems to have turned a blind eye to FIFA-related depredations for years. Maybe the FBI is the only agency willing to check the Total Corruption of international soccer. If so, bravo America. I place my right hand over my heart and withdraw.