Sports fanatics are a passionate and loyal bunch of people who tend to defend their teams' honor to the point of exhaustion.

I mean, some fans even get into fistfights over their home teams, and this is predominantly synonymous with NFL patrons here in the United States. So, it goes without saying that it usually takes a lot for members of a fanbase to go so far as to denounce the franchise that many have loved their entire lives. New York Giants and Jacksonville Jaguars fans have seemingly come to this point.
Many fans decided not to participate in the Giants' season finale at Metlife Stadium against Washington, which the home team lost, 22-7. Big Blue fans have called for the jobs of head coach Joe Judge and general manager Dave Gettleman all season. The former is still running the team for now, while the latter fell on his sword, stepping down from his post Monday morning and into early "retirement." If the Giants do retain Judge for next year, fans may need to boycott the team's home opener of 2022 to really get their point across.
Meanwhile, Jaguars fans took a different approach to notify team owner Shahid Khan of their displeasure with how the franchise has been operated. They want general manager Trent Baalke out and staged a "clown out" at the game in protest. This probably should have happened long ago in Jacksonville, but this year was even more of a shit show than usual. The team wasn't good at all, former head coach Urban Meyer conducted himself as if he were still at Gainesville, and there just didn't seem to be any long-term plan in place. On top of that, No. 1 overall pick, Trevor Lawrence, looked absolutely nothing like the QB prodigy everyone expects.
G/O Media may get a commission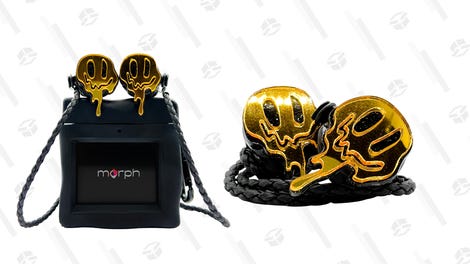 morph audio
Morph Earphones
The Washington Football team has experienced a decline in attendance over the past few years, and they, like the Giants and Jaguars, have been a poorly run franchise for a long time. From 1999-2012 Washington ranked top three in attendance each year. This season they ranked 31st. But Washington is on a whole other level with their dysfunction. With multiple allegations of sexual misconduct and a full-on criminal investigation, the Football Team takes the cake. Aside from the team's former name, the WFT was once a proud franchise that used to compete for championships. Under the leadership of Daniel Snyder, they've become nothing more than a disgrace of a franchise and the poster child for organizational dysfunction.
NFL fans have put up with a lot of mismanagement from certain teams over the years. Detroit Lions fans have as good a reason as any fanbase to completely disown that organization. The Ford family just can't get it right in Detroit. Even a fanbase like the Bengals' can say their team has been to a Super Bowl in the modern era. Cincinnati made two Super Bowl appearances in the 1980s. They lost both, but they did get there.
Knowing this makes it even more of a sore thumb to see the Giants play a home game at probably 60 percent capacity. The G-Men last won a Super Bowl 10 years ago. This last decade hasn't been great, but you can't take the two Eli Manning era (2007 & 2011) championships away. Add the two Super Bowl victories under Bill Parcells, and that's at least a history of winning. For these loyal fans to turn their backs, even if only briefly, speaks volumes to how bad things have gotten in such a short amount of time.
If enough fans opt to stay away for an extended period, this could be the wake-up call some of these teams need to get their acts together. Jacksonville fans and their clown out was amusing and should be embarrassing for Khan, but only time will tell how that could affect the status of Baalke.
These fan bases may need to stay the course in staying away from home games heading into next season. I know the NFL has enormous television contracts, but these owners aren't in the business of losing money. They still love that gate revenue, and if enough fans refuse to show up for long enough, then it could force the hand of these owners where the product is concerned. The best way to get these billionaires to act right is to hit 'em hard in the wallet.