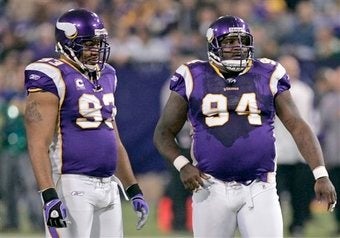 Have you made your NFL picks for this weekend? (Just for fun! No money, right?) You might want to hold off on a couple of those games, since a few of the rosters won't be finalized until a judge makes up his mind about the suspensions of the six players who received four-game bans for using an illegal diuretic. The league has been sued and U.S. District Judge Paul Magnuson said he needed more time to consider the case, but as of this moment he has blocked the suspensions pending his ruling. Wait, you can do that?
The players have already gone through a lengthy appeals process with the league, but the NFL Player's Association filed suit anyway and earned a stay of execution through the courts. I have no idea what the legal basis for that is, but it worked, and now with less than 48 hours to go before kickoff, no one is sure if the Starcaps Six be allowed to play on Sunday. The Vikings in particular are hung out to dry, since they're really going to need starting linemen Kevin and Pat Williams as they fight for a division title and a shot at the playoffs.
Oh, wait. The Vikings are playing the Lions on Sunday. Never mind then.
Federal judge blocks NFL's suspension of 5 [AP/Yahoo]