Just when it was looking like no one wanted to host the once great Fernando Torres's final years in the sport, the club that gave him his start, Atlético Madrid, has come in to rescue him. As the headline from Madrid sports daily AS reads, El Niño—the kid—returns as a man.
According to AS, the deal between Atlético, Torres, and the striker's current club AC Milan is complete. They only need to wait for the transfer window to officially open next week for the move to be made official.
Related to this transfer is the fate of Alessio Cerci, who was brought to Atlético in the summer but has barely played. Part of the Torres negotiation involved the Rojiblancos sending Cerci to the Rossoneri. The two clubs have reported agreed to that move as well, though Milan has yet to come to an agreement with Cerci. However, it isn't believed that Torres's move itself is predicated on Cerci going to Milan, so that side of the deal should go through no matter what.
G/O Media may get a commission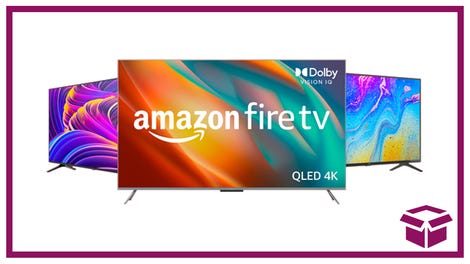 Ooh. stunning.
New Amazon Fire TVs
This is probably the best-case scenario for Torres. He returns to the club where he made his name and where he remains a revered figure. For years Torres was the sole bright spot on a mediocre Atlético team, rejecting a number of moves abroad in favor of staying with the only club he ever knew. Atlético are now in a completely different place, comfortably the third club in La Liga behind Real Madrid and Barcelona, and coming off their best season ever.
There will be little pressure on Torres to succeed, since nothing El Niño could do would erase the memories of his first spell. Supposedly manager Diego Simeone specifically asked his club to bring in Torres, so you'd imagine he's as invested as anybody in Torres having a good homecoming. For as notorious as Torres's evaporated touch and composure when finishing have become, he nevertheless has proven to be a hard worker, dedicated to incessantly running the channels to present an option behind the defense as well as pressing when out of possession. These traits are nearly as important in Simeone's system as is scoring itself , and as long as Torres continues to work for the team, he should see playing time.
At the striker position, Atléti currently have Mario Mandžukić and Raúl Jiménez, which makes Torres's prospects of starting interesting. Should all three players stick around, you'd imagine the hierarchy being Mandžukić, then Torres, then Jiménez. However, there are rumors of other clubs sniffing around Mandžukić, including striker-barren Manchester City. If the Croatian was to leave, it's possible Torres would again become the club's full-time starter. A simultaneously intriguing and concerning turn of events.
Regardless of how many goals Torres manages to score in the 18 months he's set to be back at Vicente Calderón Stadium, it's at least heartening that Torres has returned to a club that appreciates him. Every great player gets old, and it's much better for everyone involved when the player is allowed to age gracefully, in front of a crowd that cheers for the good instead of boos for the bad.
[AS]