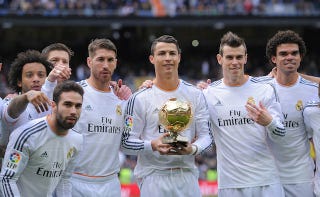 As inevitable as Cristiano Ronaldo's impending Ballon d'Or victory has been, this year's award campaign has been especially tedious. So we're happy that FIFA's announcement of the three finalists brings us one step closer to being done with the whole thing.
About a month from now, Lionel Messi and Manuel Neuer will have the honor of posing next to, shaking hands with, and clapping for Ronaldo on his big night. On the managerial side, Real Madrid's Carlo Ancelotti, Germany's Jogi Löw, and Atlético Madrid's Diego Simeone will vie for the award given to the top coach. We're pulling for Simeone, but all three are good candidates.
Still, the end is near, which is something to be thankful for. No longer will we be subjected to Real Madrid manager Carlo Ancelotti's verbal backhands of FIFA president Sepp Blatter, no longer will we be forced to wade through imaginary controversies conjured up by bored media fanboys, no longer must we endure the ugly spectacle of a team fellating their own player in the most public way just to make him feel loved. We're almost free. Well, for another six or seven months, at least.
[FIFA]