Sepp Blatter warned everyone that this was coming, but it's still a shocker seeing it: Real Madrid and Atlético have both been found in violation of FIFA rules regarding the signing of players under the age of 18 and punished with a prohibition on registering any new players for two transfer windows, starting this summer. These are the same violations and punishment that were levied against Barcelona two years ago, which they have only been free of since the start of this month.
FIFA's rules describe a series of regulations about when, where, and under what circumstances underaged players are allowed to move from their native country to a foreign club. As laudable as the idea behind these rules are—they're aimed at preventing youngsters from being sent to far-flung locales, then getting cut from the team and stranded in a foreign land with no family or support system to help them—the regulations are poorly designed. The situation the rules seek to prevent is simply not applicable here. The real victims in these cases are the kids themselves, who, if the Real and Atlético cases are anything like the Barcelona one, will be prohibited from competing with their clubs' youth teams. These rules, when applied so stringently to clubs like Barça and Real, do little more than prevent young players from acquiring the best training possible, all because of where they were born.
However, the rules are the rules and now Real and Atlético will have to deal with the fallout. Both clubs will appeal the punishment to FIFA and, if that fails, to the Court of Arbitration for Sport, just as Barcelona did. And they'll probably lose, just as Barcelona did. What could be critical, though, is whether the appeal process will delay the sanctions (which was the case when Barcelona went through this) and allow the clubs to register new players this summer.
As for the registration ban itself, the timing of these punishments could have an enormous impact on the transfer market all over Europe—Real Madrid's situation especially. There was a very good chance Real would make significant roster moves in the offseason, including the likely sale of Cristiano Ronaldo and the purchase of Eden Hazard and/or Paul Pogba. Neither of those signings would be possible (though we should be clear that the rules only prohibit the registering of new players, not the signing themselves, as we saw with Barcelona's signing of Arda Turan and Aleix Vidal last summer; the rule is like that because it would be illegal to prohibit the free movement of workers) if the sanctions stick this summer, and the club almost certainly won't get rid of Ronaldo if they can't bring in replacements.
There are all sorts of dominos that either will or won't fall because of the moves these two clubs will not be able to make, which will in turn effect what happens elsewhere. We'll have to wait and see how this all plays out, but these sanctions will have a massive effect on the sport one way or another.
G/O Media may get a commission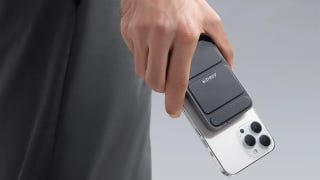 15% off
15% off Anker Top Ten Products
Take charge
Treat yourself to a portable power bank, a magnetic wireless battery for iPhones, or even a solar generator. There is a reason these are in the top ten. For instance, the Anker 747 Power Bank is a 4-in-1 charger utilizing USB-A and USB-C to be capable of charging up to four devices at once. Great to take with you when traveling and in need of keeping your phone, laptop, and even Nintendo Switch powered on.
[Guardian]
Photo via Getty