Many a lame observation has been made about the likelihood that next year's Super Bowl at MetLife Stadium will be ruined by bad weather like the stuff we've got now. It's silly. Rare is the storm that dumps a foot of snow on the New York metropolitan area, and rarer still is the football fan that would be turned off by a winner-take-all Ice Bowl. Still, there is one thing that could make Giants Stadium a clusterfuck to rival the Superdome last Sunday, and that's a complete lack of police and emergency services:
A faction of Meadowlands District mayors is threatening to withhold police and other emergency services for next year's Super Bowl at MetLife Stadium, saying they've been little compensated for the mounting cost of municipal services at past stadium events.
The decision by some mayors, announced this week in a news release, is in response to overtime expenses local governments say they've incurred and have had to absorb in providing emergency services for events at the stadium complex in East Rutherford.

"The stadium … has done little to help offset any costs for the surrounding communities when larger events occur at the stadium," Secaucus Mayor Michael Gonnelli said in the release. "With one of [the] world's largest sporting events coming to the East Rutherford venue, there is little doubt that the mayors will be expecting a call that their services are needed.

"The answer will be clear," Gonnelli said: "Don't ask."

Gonnelli promised to make a "concerted effort to make sure the region's towns do not participate in any Super Bowl planning or activity that will require the towns to pick up any costs."
The Giants say they are willing discuss the mayors' concerns, but the mayors are talking pretty tough: East Rutherford's James Cassella said the Jets and Giants have been getting away with robbery on their $6 million annual rent, while Carlstadt Mayor William Roseman said, "The teams have never been good corporate neighbors to the region," and complained, "While we are forced to lay off police officers, the owners of the Jets and Giants are filling their pockets at taxpayers' expense."
Pretty standard football team behavior, but also a conflict that might presage an interesting scenario: If the mayors really do make good on their threat to withhold police and emergency services, could the NFL, an organization with $9 billion in annual revenue, bring in enough private security, EMTs and medical personnel to make the event safe?
Teams and cities exist in a constant, strained detente, and the NFL has been throwing its weight around in its fights with municipalities for some time, usually with good results. The league may not decide that Super Bowl XLVIII is the time to nudge public services out of its operations, but it's not outlandish to think that the league could provide much of what the Meadowlands District can provide, without the fuss. They'd be cutting off local input, but the NFL hasn't been shy about that in the past.
G/O Media may get a commission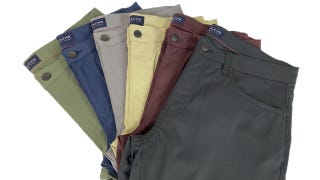 JACHS NY Fall Stretch Tech Pants
Mayors Resisting Super Bowl Cost [Bergen County Record]