On October 19, Barry Zito took the mound in St. Louis, with his San Francisco Giants trailing the Cardinals three games to one in the NLCS. He was not the pitcher the Giants would have wanted, one game from elimination. Nine days earlier, in his first start of the postseason, Zito had been yanked after surrendering his fourth walk in 2 2/3 innings. This time, though, with the Giants more or less out of options, Zito pitched 7 2/3 shutout innings, striking out six, walking one, and allowing only six hits.
Five days later, Zito was on the mound again for Game 1 of the World Series, matched up against Detroit's Justin Verlander. It made sense to see it as a throwaway start—the Giants, stretched out by their seven-game ordeal, not wanting to waste a top starter against the well-rested Tigers and their ace. Yet Zito, locked in, held the Tigers at bay, allowing only one run in an efficiently pitched 5 2/3 innings, helping his team steal a game from the best pitcher in baseball. Oh, and he hit an RBI single off of Verlander, for good measure.
Those two games—starting the comeback against the Cardinals, and knocking the Tigers back on their heels—were the two most important games the Giants played this postseason. Six years ago, when the Giants made Zito the highest paid pitcher in baseball, they expected him to win the big ones. But those expectations were long gone. This was the first year that Zito had even been included on a Giants postseason roster. But his success perfectly captured the overriding theme of his career: He never goes away.
We are all aware of the nosedive that Zito's career took after he signed a gargantuan contract with the Giants. He was brought to San Francisco to be the team's ace and to lead the its crew of emerging young pitchers. His failure was immediate, and soon Giants fans were wishing that he would just disappear. Every time he took the mound, he reminded everyone just how much money the team had wasted on him. He was an ugly scab that wouldn't stop itching.
The key words, though, are wouldn't stop. Usually, when an ace falls to sub-mediocrity, there's an injury involved, or some total mental collapse, followed by a quick and unceremonious disappearance from the rotation. He's reduced to an ugly line on the payroll.
G/O Media may get a commission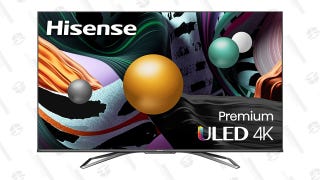 Save $350
Hisense ULED 65" Android 4K HDR Smart TV
But Giants fans got no such vanishing act. From 2007 through 2010, Zito made at least 32 starts, racking up more than 180 innings per year. Year after year, he took the mound every five days, tried to find the old magic in his curveball, and got rocked. There was no drama to it. He just kept pitching, badly, always calm and aloof, when anguish would have seemed more appropriate. The Giants knew they could never unload Zito's contract on another team. So they kept pitching him, the world's most expensive and durable back-of-the-rotation guy. When quality mattered more than quantity, in the postseason, they would make him disappear.
This regular season was Zito's worst yet. He made 32 starts, pitched 184 innings, and only managed to accumulate 0.8 WAR. Among qualified starters, Zito's WAR ranked him as the sixth-worst pitcher in the league, while he remained the highest-paid player on the Giants roster. This was not how things were supposed to go, and it wouldn't have been surprising for the Giants to leave Zito off of the postseason roster yet again, forcing him to go away when the games mattered most.
But thanks to a good September by Zito and the implosion of his fellow ex-ace, Tim Lincecum, the Giants couldn't write him off this time. And then they had to put their season in his hands, for no reason other than that he was there. It's a good thing he was, too.