INDIAN WELLS, Calif. — Within five minutes of sitting down to watch Gael Monfils, you realize that this one practice session—practice!—has given fans more joy than entire swathes of the Indian Wells Masters main draw. They'd trade this one session for a dull quarter of the men's singles tournament, maybe more.
"It's his personality," gushes one person among the three rows of people who have opted to sit and watch the world No. 42 noodle around on a practice court instead of watching one of the many competitive matches being played for money and glory at the same time, not very far away.
The Frenchman moves with a lolling semi-limp, his right leg cross-hatched with medical tape. He presents a whole gallery of mock-exasperated faces. He provides running commentary the entire time and shreds of it are audible from the stands. When his opponent sends a ball sailing long, he turns and hops so that it collides with his leg or, optimally, butt. When Monfils, going for blatant trick shots about one in every five rallies, pulls off something especially uncanny, his expression melts into Did I do that? charm. Once, skittering left along the baseline, he badly mistimes his footwork and appears to be running past the ball—but for Gael every mistake is just a chance to improvise. He whirls clockwise and blindly thwaps a one-handed backhand in one slick motion, his right leg now circling back a full 360 degrees so he can admire his work. The fans are eating out of his palm. (He'll repeat this trick again later and miss just wide.)
"Facile à faire [easy to do]," he mumbles as he retrieves some balls from the fence. Monfils is aware of the onlookers, no doubt, but this practice session would be a circus even without an audience.
The session is certainly not for running, possibly because players can't afford to exert too much off the clock, probably due to his taped-up right leg, and definitely due to Gael Monfils's approach to the world. His response to a drop shot is stationary chuckling. "Pas courir [no running]," he says, shuffling not especially towards that shot, but not away from it either. When his practice partner, who is serviceable but has no business sending an ace past him, sends an ace past him, Monfils flings him a compliment: "Il est vraiment très bon [he is truly very good]." It doesn't appear as if Gael's knees bend more than a few degrees over the course of this whole session. And they don't have to. Even when hardly mobile, he reels off drop shots, soft lobs, knifing angled volleys that few people on earth could retrieve.
G/O Media may get a commission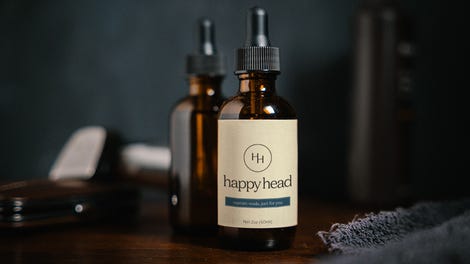 The contrast is jarring between Monfils's court and the one next over, where João Sousa, the journeyman who upset No. 5 seed Sascha Zverev the night before, is embroiled in a punishing rallies, barely pausing for a breath. In foreground and background, there are two different paths to being a middling player: to be flagrantly talented and keen on practicing your racket-frame juggling, or to be ascetic in approach but just not all that good.
Monfils takes a serve from way out wide, as if he's practicing for doubles. (He is not playing doubles.) He spends more time juggling and joking. These are not things he will need to replicate in a match; it is just play. The play is maybe why he does the work, or at least how he finds some joy in it, 14 years on and so many injuries later.
---
A day later you wonder how this any of this was ever fun at all. The ecstasy of watching Monfils tool around in practice is cancelled out by the dread of watching him lurch through a third round match that he should, by any reasonable standard, win in straights. Monfils is down big in the first set, 5-2, and has retreated to the locker room for medical timeout. It is taking long enough that his opponent, his whippet-thin countryman named Pierre-Hugues Herbert and ranked No. 93, begins doing agility drills to stay warm. Monfils returns to the court and is slow to the ball. It's a rough day at the office.
He loses the set, then the first game of the next one. He goes to the corner to talk to tour officials, walks comically slowly to the water cooler to retrieve a bottle, the umpire staring at him solicitously, the whole crowd overcome with the same dreaded looming sensation, Is he going to retire? Though as genius a bender, leaper, sprinter, and shot-maker as the tour has seen, when it comes to conditioning, Monfils has been known to wilt. Countless times he's assumed his collapsing hands-on-knees posture, and now the crowd sees it again.
By now Monfils is playing some serious junk ball, which has always been part of the maddening charisma of his game: the way he can feel like he's toying around with opponent instead of simply putting the ball away, often at his own peril. This makes you wonder, is he doing this for us, or for him? In this case, though, it seems due to his body's limitations. He's not putting any more pace on the ball than is absolutely necessary. A well-aimed Herbert shot jams him, and Monfils knocks a goofy backhand back with an almost vertical swing, like a cricket batsman. "He hits a bunt better than I hit my groundstrokes," says a well-sunned man in a beige hat. The very next point, Monfils blasts a cross-court forehand untouchably fast. The next point he'll blow a routine return, claw at his hip and spit, "Putain." Multitudes, etc.
At this point his world-weary body language has captured the sympathies of the entire crowd, which is just willing him to keep the show going but sensing the inevitable. At 2-1, Herbert wins game with a neat drop shot that wrong-foots his opponent exactly as intended; Monfils stumbles, winces, and the crowd collectively does, too. The great entertainer is not long for this match. At 2-1, the Frenchmen play one final good point. At its climax Monfils goes for a drop shot and follows it up with a barely retrievable lob, which Herbert feebly overheads back; and here Monfils, with every possible advantage in this point, relinquishes all of it at once, resetting the rally with a gentle backhand right down the middle of the court, so benign it makes me laugh aloud. On the next point he double-faults to lose his service game, walks over to the chair, makes eye contact with the umpire and a flat horizontal sign with his hand. Officially it is over: Pierre-Hugues Herbert defeats Gael Monfils, 6-2, 3-1, ret.
In press Monfils will describe how he hurt his back in the second game of the match and wasn't sure he'd be able to go on. "You know at the end it was a 2-1 break and I couldn't win the game because I couldn't move and do anything I want," he'll say of his decision to retire. When asked if it was the back or the hip or both, he'll give the best answer anyone has given anything this whole week.
"You know, I think it's compensation"—maybe he means combination—"of many things ... but we'll stick with the back today." That sentence ends on a conspiratorial wink, making everyone in the small, hot interview room crack up. What matter if it was the hip, the back; basically every professional tennis player is in some state of muddled, ambient pain, at all times. The injury-plagued Gael Monfils is no exception. But he is his own boss, and the decision to cut short the work day is no one's but his own. Whatever explanation he offers is—like the work itself—just for fun.