I imagine there are a lot of Deadspinners out there who collected baseball cards in the late 80s and early 90s, the height of the baseball card collecting boom ... the time of Upper Deck, Score, the extra-long Bowmans that didn't fit into the plastic sleeves, etc. And, of course, the infamous "fuck face" card pictured to your right, the most notable thing about Billy Ripken's career.
Future Considerations has an eye-opening report, though, informing us that the baseball cards of that era are worth absolutely nothing.
It came from a number of people discovering around the mid 80's that their childhood baseball card collections from 20 and 30 years prior were now worth hundreds if not thousands or even hundreds of thousands of dollars. And so then a whole shitload of people bought up baseball cards like they were gold bricks and shelved them away thinking that 20 or 30 years (i.e. now) down the road they could make fortunes. Unfortunately, what nobody stopped to think about was that the whole reason the cards from the 50's and 60's were worth so much was because nobody had them anymore. All the children of the 50's with baseball cards went to college in the 70's and their parents tossed em. Created rarity and the like. Nobody did that with the 80's and 90's cards. Everybody's kept em locked away in mint condition waiting for the time to be ripe.
And that time is never coming. Dammit, now what am I going to do with all these damn things? Could you all do me a favor, and set fire to all of your baseball cards tonight, so mine could one day be worth something?
In other baseball card news, Upper Deck is trying to buy Topps. I'd care, if any of their shit would ever be worth anything again. Bunch of fuck faces.
G/O Media may get a commission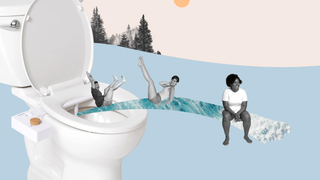 17% off
Tushy 3.0 Warm Water Spa Bidet Attachment
(UPDATE: No Mas has commemorated the "Fuck Face" card with a t-shirt ... scroll down towards the bottom here.)
A Desperate Plea From Those Of Us With Knowledge Of Baseball Cards [Future Considerations]
Say It Ain't So, Bazooka Joe [The Ghost of Wayne Fontes]