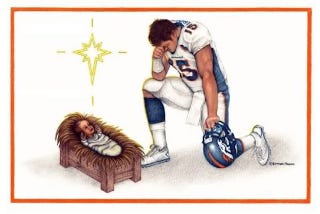 The world keeps hurtling through space, packed to the rafters with straight up crazy people. Behold: the Tim Tebow "Tebowing" Christmas card.
Some Coloradan soul has gone to the trouble of creating a limited run of 1,000 of these bad boys so get them while they're hot (Five for $15). Once they're gone, they're gone! Unless...no that's not for a few more months still.
Christmas and Tebow just go to together, you know? As the seller points out:
The cover of this card features Tim Tebow, the Heisman Trophy winner, dedicated Christian witness, and newly-chosen quarterback of the Denver Broncos, in his signature "Tebowing" pose, paying honor to the Child Jesus. The Star of Bethlehem illuminates the scene, and its light shining for all to see is a reminder of God's Love: a love that embraces everyone, and that turns no one away, no matter their race, nationality, religion, orientation, income level, or disabilities.
Amen.
h/t Alec
TIM TEBOW TEBOWING Christmas Cards LIMITED EDITION - A Unique Gift! [Ebay]