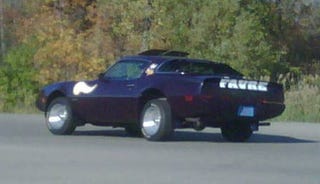 Got an image you'd like to see in here first thing in the morning? Send it to tips@deadspin.com. Subject: Morning crap.
I know, I know. You've had enough of the Gunslinger and all the duct taped t-shirts created in his honor. But this post should put a stop to all that because it is pretty much impossible to find a more impressive—or more fitting—memorial to the entire Brett Favre-Green Bay-Minnesota saga than this. A purple Firebird Trans-Am adorned with No. 4 decals and a "We Love You Man!" sticker on the back bumper has been spotted in, of all places, Green Bay, Wisconsin. This is the definition of perfection.
You may also rest assured that the tipster who took these photos can confirm that man behind the wheel of this beauty "took off, tires squealing." Is there any other way to drive an automobile like this? I say no.
I'm just going to go ahead and assume that Def Leppard was blasting out of the stereo as well.
[Photos via Mike C. of Green Bay, WI]
* * * * *
Welcome to Wednesday. Are you getting it?