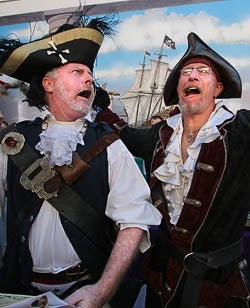 Pat Croce has worn many hats: physical therapist, entrepreneur, owner and president of the Philadelphia 76ers, motivational speaker, Jim Croce hanger-on, philanthropist, and, of late, "pirate aficionado."
Croce was part of the team that recently located Sir Francis Drake's shipwrecks off the Panama coast, and he sounds for all the world like a man with more money than he knows how to spend, and a grade school love of pirates.
"Here I am, a homeboy from Philadelphia in the Caribbean and we score! It's pretty wild."
"If it weren't for Sir Francis Drake, we might all be speaking Spanish. He was the ultimate pirate, bro. I love this guy."
We'd make fun, but we honestly cannot think of a better way to spend our semi-retirement, bro.
Sunken treasure: Croce & crew uncover Drake shipwrecks missing for 400-plus years [Philadelphia Daily News]