During yesterday's preseason game between the San Diego Chargers and Minnesota Vikings, Fox announcers Kevin Burkhardt and John Lynch decided to shill on behalf of the people trying to steal $350 million from taxpayers so that they can build a new football stadium in San Diego.
The Chargers are trying to convince San Diego residents to vote on an initiative that would free up public money for the construction of a new stadium, and last night Burkhardt and Lynch took it upon themselves to whip votes.
"These stadiums affect cities in a positive way," said Lynch. "They bring people to the city, they bring jobs to the city, and if you wanna be a big-time city, I think you gotta hold on to these teams, and once they leave, they aren't coming back."
Then Burkhardt chimed in: "Listen, the NFL and the Chargers are putting in $650 million, and you're saying 'Okay, well where's the rest coming from?' It's not coming from taxpayers. It's all coming from a hotel tax that essentially equates to this: If you're a tourist, or a visitor, hotel room for $300 bucks, you're paying an extra $13 a night."
This is all very gross. Not only has there never been a single reputable study proving that sports stadiums inject jobs into a city, San Diego already has a football stadium!
G/O Media may get a commission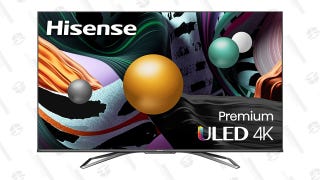 Save $350
Hisense ULED 65" Android 4K HDR Smart TV
As for Burkhardt, he seems to misunderstand what a tax hike is. The money raised by the hotel tax may not be coming from San Diego locals, but it is still coming from taxpayers who are not wealthy billionaires. Also, the proposed $350 million contribution from the city would actually come from the sale of tax-exempt bonds that would be backed by the increased hotel tax. If a recession or a downturn in tourism were to dampen the revenue produced by that hotel tax, the city would have to find another way to pay off the $350 million.
John Lynch and Kevin Burkhardt don't know what the hell they're talking about. The good news is that the citizens of San Diego seem to be much more informed than they are.
[Fox]